Perhaps the most important aspect to think about before designing your printed brochure is the style and format that it will be printed and bound in. These are much bigger considerations than you may think. Size and binding aren't just practicalities; they can have a significant impact on the look, feel, affordability, and longevity of your printed brochure.
They may also influence the design elements you can deploy to make your finished brochure stand out, with the smaller dimensions of an A6 brochure for example ruling out large amounts of white space or large showcase images – something that you could feature in an A4 or larger non-standard size.
What are standard printed brochure sizes?
Standard paper sizes are taken from the A' Paper sizes common throughout the world. From A0 which is the largest to A7 deemed the smallest. There is actually an A8, but this is so close to a business card it's hardly ever used. There are four standard sizes for brochures that you can choose from: A4, A5, A6, and square, each of them comes with its own advantages and characteristics.

A4 Brochures
A4 brochures measure 210mm x 297mm, so they're the largest standard choice giving you plenty of space for both text and images. You can fit quite a lot of information onto an A4 sheet before it starts to feel too cluttered, so this size is perfect if you want to provide a comprehensive overview of your products, services, or business history. An extra advantage of A4 brochures is that they're familiar; they're what an audience typically thinks of when they hear 'brochure', so A4 can help to boost engagement.
Could be used for:
Full product catalogues
Detailed instruction manuals
Training workbooks
Presentations
Pretty much anything you can think of
A5 Brochures
A5 brochures measure 148mm x 210mm, so they're a little more compact than an A4. If you want enough space to really get creative with your design, but you don't have enough content to fill an A4 without leaving too much white space, A5 is the perfect option. It's also cheaper to send through the post than an A4, so it can be a cost effective choice if you're planning to mail your brochures to potential customers.
Could be used for:
Handing out at events such as exhibitions or seminars
Mailed newsletters
Staff inductions
Promoting featured products or services
A6 Brochures
A6 brochures measure 105mm x 148mm, making them the smallest standard brochure size today. But what these brochures lack in size they make up for in portability, with A6 brochures fitting neatly into handbags or pockets. This makes them ideal as reminders of a meeting, and many businesses use these compact brochures to complement their online marketing efforts. While digital marketing can be effective, it lacks one vital influencer: tangibility. A physical brochure bridges the gap between online and offline.
Could be used for:
Business charts and graphics
Sharing product photos
Summarising information following a meeting
Brief introductions to the business
Single product descriptions
Square Brochures
Square brochures are typically available in 148mm square and 210mm square sizes, and are an unusual yet eye catching alternative to A4, A5, and A6 options. They are often used in industries where competition is fierce, as the square shape stands out amongst the crowd and suggests an ability to think outside the box and do things differently.
Can be used for:
Business proposals
Presentations
Visual-based brochures where your imagery really needs to stand out, such as for a school or university prospectus, a real estate project or new vehicle catalogue.
Do You need Brochure Printing?
Order today before 1pm, Get Next Day Delivery
What Brochure Binding options are available?
How should my brochure be bound?
Along with size, it's also important to think about style, and how your brochure pages will be collated to deliver the finished product. There are a number of different ways to bind your brochure:
Stapled Brochures
Stapled brochures – are made by folding the pages and stapling through the centre. This can also be referred to a 'saddle stitched' as the machine used to doe the stitching used to look like a saddle.
This is a very affordable binding option for shorter brochures of between 8 and 40 pages, when there's typically not enough surface area to perfect bind. Because these brochures are so affordable and quick to create, they are great for brochures that are intended for a short shelf life.
Could be used for:
Product brochures
Business brochures
Cocktail lists and menus that change frequently in a café, bistro, bar or restaurant
Price lists that are subject to change, such as beauty or salon treatments
In-house brochures such as company newsletters
Programmes for one-off events such as company retreats
Seasonal catalogues
Perfect Bound Brochures
Perfect bound brochures are glued together at the spine, with any imperfections in paper alignment trimmed down to make everything neat and even.
These brochures are the closest in appearance to a standard paperback book, and look very professional. These brochures stack well – so are ideal if you're mass producing your brochure for distribution – and are still very affordable despite their professional finish.
Could be used for:
Portfolios
Manuals
Annual reports
Product brochures
Business brochures
B2B documents
Property brochures
Fashion catalogues
Wire Bound Brochures
Wire bound brochures – sometimes referred to as spiral bound – are good choices for brochures of 36 pages or more than require a more durable finish. These brochures are made by punching holes into the edges of the paper, and inserting a strong metal wire to form the spine.
The wire is very long lasting, so wire bound brochures are best for brochures that need to stand the test of time. As these brochures lie flat when opened – unlike perfect bound – they are ideal for reference materials as they can be left open.
Could be used for:
User manuals
Policy handbooks
In-depth training workbooks
Recipee Books
Full product brochures
Long term business information
Brochures that need to be used again and again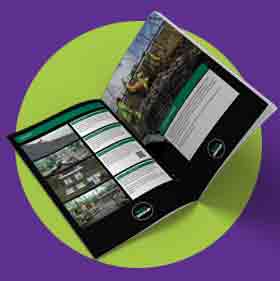 Need help with your Brochure Printing?
We understand that creating a brochure can be challenging. We can help with the design and offer fast, efficient and high quality brochure printing services.
Browse our brochure printing solutions here., or give us a call or email us if you would like to discuss how we can help Call: 01952 850730 or Email us here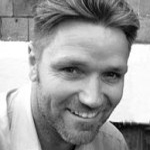 Dean Williams is a design and marketing blogger working for Print-Print Limited, promoting business and building brands through quality print marketing. If you're interested in small business promotion then please get in touch hello@print-print.co.uk