The Complete Guide to Social Distancing for Bars, Pubs, Restaurants and Cafés
From the 4th of July 2020, the government will be relaxing the lockdown restrictions for non-essential businesses and venues.
In short, this means that bars, restaurants, pubs and cafés will be back in business and open to the public. But that doesn't mean things will be quite back to normal. Just like any other place of business that's open during the current crisis, you'll need to put measures in place to reduce the risks against your staff and your customers.
Here's everything you need to know to get your business ready:
Think about the layout
Before you can start to think about opening your doors to the public again, you'll need to spend some time preparing your premises. And for cafés, restaurants, and pubs, that means making the right adjustments to your tables and the layout of your customer areas.
So far, we've all been following the two-metre rule of social distancing.
But the government's recent advice for restaurants has changed slightly:
Where a distance of 2 metres isn't possible, a distance of 1 metre is now acceptable – as long as you're taking steps to mitigate the risk.
So what does that mean, exactly?
It means that if you can't stick to the 2-metre rule, you should be doing what you can to further reduce the risk of close contact. That could mean things like:
Reducing the number of customers you allow in at any one time
Staggering your bookings and entry times to cut down on foot traffic
Shifting more of your customers and tables to an outside seating area
Or using protective screen dividers to separate your tables.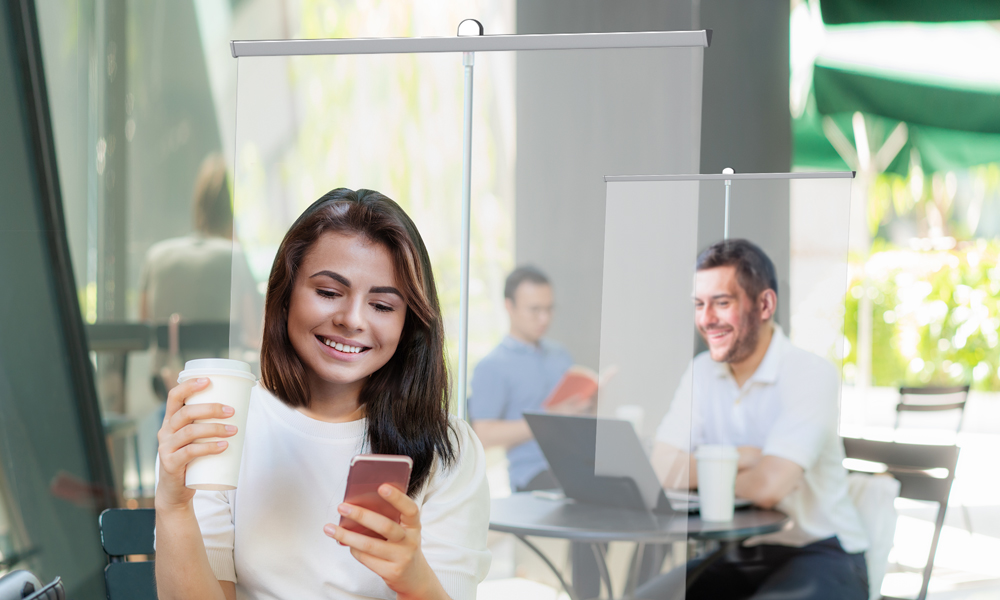 Some venues are even closing down their carparks temporarily to give them more outdoor space for tables and benches – which means they can take more customers in total, while still keeping their indoor tables at a safe and healthy distance.
And if your venue is already a tight space (or you've got low ceilings), you could try some moveable, retractable screens with adjustable heights – so you can keep up a physical barrier while still being flexible in how you arrange the room.
Don't give people a place to collect drinks or food.
If you're running a pub or a café, one of the easiest improvements you can make is to close down your bar area to the public. It might mean a little more work in moving over to table service, but it's one of the simplest ways to reduce queues and potential congregation in a smaller space.
But simply announcing it won't be enough. The habits of pub-goers are deeply ingrained, so you'll need to give them constant reminders with clear signage and posters to make sure your restricted areas stay clear. (Or even the more mobile Strut Cards, if you're expecting a little trial and error as you move things around and try out new measures.)
Similarly, you'll need to think carefully about any places in your restaurant where queues might naturally form – and then do what you can to make those queues as safe as possible. In most cases, this means marking out the recommended safe distance on the floor with a set of vinyl floor stickers – or even keeping your customers apart with a screen divider if you're expecting multiple queues.
Finally (and perhaps most importantly), you'll need to give your customers a safe space to collect their takeaway orders. It's likely that the people who are ordering takeaway food are some of the most vulnerable people who are doing their best to avoid public spaces. So wherever possible, try to create a collection point that's close to your entrance – or ideally, outside! As the govenrment keeps is contantly reviewing the safety regulations in order to lift the lockdown, then you may consider buying a small portable printer to allow you print on the go, this was you can change your POS posters immediatley in line with government guidelines.
Keep up with the little things
With so many new regulations and bits of advice popping up each week, it can be easy to lose track of some of the most basic practices of good hygiene. So while you're setting up your café or restaurant for its long-awaited re-opening, make sure you're still paying attention to things like:
Stocking up on masks and gloves for your staff
Creating enough ventilation
Providing soap and sanitiser dispensers (for both your staff areas and your public spaces)
And wiping down your furniture and the items on your tables between every guest or group of people (especially if you're saving money with washable waterproof menus).

Ready to start welcoming your guests again?
Getting your pub or café ready for a re-opening doesn't have to be complicated. But it does mean getting the right tools and practices in place to ensure the safety of everyone who visits your venue.
If you're not sure where to start, you can have a look at some of our Printed Social Distancing Products. Or if you have any questions about what your business needs, just give us a call – we'll be happy to help you make your workplace a safer space.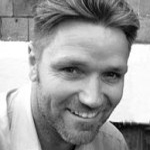 Dean Williams is a design and marketing blogger working for Print-Print Limited, promoting business and building brands through quality print marketing. If you're interested in small business promotion then please get in touch hello@print-print.co.uk