With the government's latest plans to re-open non-essential stores on June 15th, businesses everywhere are kicking into action to get prepared.
But it's not as simple as just opening your doors. The government's plans are contingent on the continued success of keeping the public safe – and that means we all need to do what we can to help minimise the risks.
For most businesses, that means taking a fresh look at their existing Risk Assessments and following the government's recent guidance.
But there are a few basic steps that every shop needs to take before they're ready to re-open. Here are a few quick tips to help you prepare:
Make your messages unmissable
It's safe to say that every person who enters your store should be aware of the ongoing crisis.
But when the shops re-open, some people might take that as a sign that everything's back to normal.
So if you want your store to do business safely, you'll need to give your customers the constant reminders they need to act and behave in a way that protects the people around them.
And the simplest way to do that is to get your safety messages into every corner of your store – from the first step through the door to the final transaction at the till.
That could mean things like:
Handy Strut Cards that can be placed on any shelf, counter, or surface
Pull-Up Roller Banners that are bold enough to catch the eye of shoppers, dispalyed on entrance or in window displays.
Big and bold Printed Posters on the walls, doors, and your shop window advising your open

Help your customers to help themselves
We're all doing what we can to respect the two-metre distancing rule when we're out and about.
But it's an easy thing to forget – and an even easier thing to misjudge!
So wherever you've got queues in your store (or just any area where people gather), you can help to reduce the risks by marking out the measured spaces on the floor with some Vinyl Floor Stickers.
These stickers are great for queues. But they're also a useful way of controlling the flow of traffic in your store. You can set out a one-way walking route through your premises, with helpful guidance to direct people to the areas they need (and minimise the amount of back-tracking and people bumping into each other!)

Get the right protection for your staff and the public
For some types of business, a close-quarters interaction is nearly impossible to avoid – like checkouts and tills or customer service desks.
And if your staff are stuck in one place, they won't be able to create the distance they need if an absent-minded customer comes too close.
So to give your workers some peace of mind, you can protect their workstation with a physical shield, such as a transparent Screen Dividers. These customer barriers help to keep your employees safe from the public (and you can even use them to separate the different customer queues in your checkout area).
Screen Dividers like these offer great protection. But they might not be practical for a business with a small premises – or any environment with a difficult floorspace.
So if your store has a smaller layout, you can try a more mobile and adaptable barrier, like a Clear Retractable Screens. These versatile dividers can be rolled up and moved or stored more easily, and some of them come with an adjustable height to help you fit your screen into an awkward space.
Looking to stay safe but struggling with your design. We're offering free design for orders over £100 on all social distancing products.
It's a brand-new situation for all of us. And you might not be sure which measures your store needs to take to reduce your risks. So if you need any help, just give us a call and we'll talk you through your options – and we'll even add in a Free Design Service for any orders over £100.
Get in touch with our Artwork Team via artwork@print-print.co.uk or call them today on 01952 850730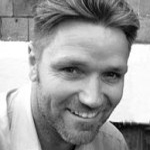 Dean Williams is a design and marketing blogger working for Print-Print Limited, promoting business and building brands through quality print marketing. If you're interested in small business promotion then please get in touch hello@print-print.co.uk