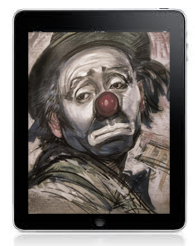 Isn't it strange that the company most famous for producing desktop computers with the power to create graphic design for print, may have created a product which some say is the first step to the end of printed material.
Digital tablets have made significant market gains over the last couple of years, with Apple's high-profile iPad leading the way.  The success of tablets have led a number of people to question how long traditional print can remain competitive in the face of this latest digital revolution.
Forrester CEO George Colony commented recently that tablets would displace e-readers, and ultimately the internet, due to their capacity to incorporate multiple media types; what he referred to as a "Nexus of media".  The two print sectors which appear to be facing the worst of this projected downturn are publishing houses and the press.  Both these industries are centred around a text based, physical product which is being targeted by the boom in tablets.
While predicting future trends is difficult, we can see a clear divide between generations. Young people are apparently reading only half the amount of older generations, although this is partially offset by the increase in life expectancy.  Even if today's youngsters don't expand their appetite for reading as they grow into maturity, the current market can be expected to support print for another thirty to fifty years.
It would be wrong to say that there will not be an impact on print; people are adapting fast to the availability of digital material.  Even before the boom in tablets there has been a huge move towards viewing text online.  Newspaper circulation in the US is estimated to be a little over 40 million, while the same newspaper's websites are receiving over 100 million hits.  E-books have also taken off in a big way, with sales up 164% in 2010, leaving them with a healthy 8.3% of the US market.  Coupled with a retail sector struggling to compete with online services, and faced with huge rent bills, and the forecast for print could look grim indeed.
It is not, however, all doom and gloom.  But television, it was proclaimed, was going to kill radio.  It didn't and radio is now reaching new peaks of listeners.  It did this by diversifying into niche markets and embracing the opportunities new technologies have brought.  Print still maintains a unique position, offering people an intellectual stimulus, quite separate from time spent using digital devices.  The immediate, tactile nature of both books and newspapers can't be replicated by tablets.  Using tablet technology to browse through material is a user friendly and fun experience, but it remains substantially different to using printed media.
Ever since Apple helped itself to a huge slice of the music industry's profits with the creation of iTunes and the iPod, numerous industries have felt threatened by the Apple machine.  Apple do appear to be pursuing the e-book market, demanding 30% of the sale cost of all books sold on their devices, but there is a long way to go before we see the demise of print.  It is up to  publishers and newspapers to keep their contributions relevant, tailoring their online and digital products to meet consumer demand while maintaining their profit margins.
However, similarly to TV advertising – most small to medium businesses will not be able to afford to advertise through digital tablet format, so the future is still bright for companies offering printing services – even if its used less by the big corporates.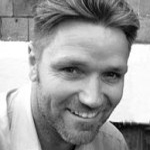 Dean Williams is a design and marketing blogger working for Print-Print Limited, promoting business and building brands through quality print marketing. If you're interested in small business promotion then please get in touch hello@print-print.co.uk