To give you an example of push out, grab a handful of paper, say 20 sheets of A4, then try and fold them all together – you will see that the outer pages have further to travel around where the spine would be, which makes them shorter overall compared to the other pages, or it makes the inner pages too long. In order to trim this document we would normally trim to the shortest sheet so so therefor the inner pages will suffer and printed information will no doubt be lost as the document is trimmed back.
Using 20 sheets of A4 may be a little extreme (as this would create an 80 page A5 document) but we are exaggerating the problem so its easier to explain. Ordinarily when you are brochure printing with a document of up to 48pages will have a problem, unless information is too close the edge of the document then its possible this will be lost when the document is trimmed down before its folded and stapled. There is a certain allowance in the bleed area for this but heavier materials will suffer more so.
In order to avoid this problem and to make your final document look more professional you need to keep any important no bleed information away form the trim by at least 8mm, we would normally suggest that a standard document of a smaller amount of pages be at least 5mm away from the trim, with push-out this may increase to 8 or 10mm especially on the outer edges.
Its not in-common for designers to actually alter each 4 page section in order to avoid push-out. Each 4 page section would be reduced in its width so to reduce the impact of push-out, this is certainly the case with heavier material, but  normally customers choose to opt for glued binding or perfect binding over 52 pages and above, or in fact to reduce the material thickness will help to counteract the problem.
Its only a 1 or 2 millimeters to edge of the document, if this moves slightly on  the guillotine then its likely to trim some of the edge off.
We normally ask that all important information is kept inside 5mm from the trim area.
This is the same with the page numbers, they are dangerously close to the edge of the trim, there is an element of whats know as 'push out', happening with a document having this many pages which is going to cause a problem.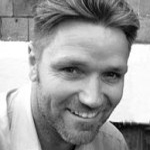 Dean Williams is a design and marketing blogger working for Print-Print Limited, promoting business and building brands through quality print marketing. If you're interested in small business promotion then please get in touch hello@print-print.co.uk