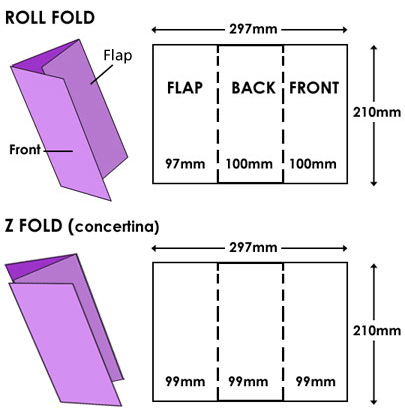 Well this is a strange one, the name indicates a leaflet which folds 'tri' or 3 times doesn't it?, well no not exactly. This term is usually used to describe an A4 leaflet which folds twice to 1/3 A4. It can also be called an 6pp DL, this means a leaflet with 6 panels, for example if you fold down an a4 leaflet to a 3rd of an A4, then you will have six panels in order to add your design. This kind of works a mini brochure, a very cost effective way of having a multi-page mini booklet printed out of one sheet.
There are two ways of folding a tri-fold leaflet, either a 'Z' fold or a 'Roll Fold. The 'Z Fold' is when the document folds back on its self like a concertina effect, and the 'Roll Fold' is when the panels are folded over each other, and then folded inwards.
The most common paper type for this kind of leaflet is around the 150gsm or 160gsm, as this thickness doesn't need to be scored before folding. Scoring is done as a precaution like a pre-fold, which stops thicker material form cracking when it goes through the folding machine.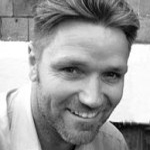 Dean Williams is a design and marketing blogger working for Print-Print Limited, promoting business and building brands through quality print marketing. If you're interested in small business promotion then please get in touch hello@print-print.co.uk