If your business is going to compete you need to keep its branding up to date, by this we don't mean you need to re-syle your logo every 12 months, but you just need to stay in touch with what your competitors are up to in order to stay in the game.
We've listed these important areas where you can freshen up your image.
Start by looking at all your products or services. Are they still current?, are you still selling them, or are they stale? Do some research as to what is in demand these days, establish what your market sector wants by getting feedback from customers – be nosy with your competitors, are they selling something you are not?, what are they doing which your could replicate or do better?
Are customers looking to save money?, then maybe offer them an budget range alternative. Would your customers prefer to buy more locally sourced products, then cast your net tighter and start promoting local produce to local people.
Try and pick up on trends, use the power of the internet to help you get ahead of the competition for selling the new hot product. Twitter is brilliant for gathering social chat on a whole variety of stuff, its not just for celebrity gossip.
Is your branding consistent with everything you do?, by this we mean is your corporate logo the same on your letterheads as it is on other printed goods. You'd be surprised how many companies have old logos on items such as invoices just because they had them printed years ago and still have some left over. From a customers point of view, your brand needs to be consistent, for what its worth your are better off binning any items which have out of date design on them as this will only weaken your brand.
We see an awful lot of businesses change their overall branding this time of the year, maybe a new year and a fresh start. A more clean modern image will do wonders for your brand awareness and help to increase sales, no one wants to be associated with a company which has a tired old image which is out of date, it has a negative impact on how people perceive your business. Is this is you then its time to smarten up your act.
Embarking on a visual re-brand should not be taken likely, we'd always advise this is undertaken by the professionals. Try to cut corners and do this yourself, (assuming your not a trained graphic designer of course) will no doubt leave you with an image which may in deed need updating again in the near future, our advice is to do it once and do it properly – you'll save money in the long run.
Look for new avenues for business by teaming up with companies offering products or services which compliment yours. If your company offers wedding cars or wedding cakes for example, then it maybe an idea to speak to local wedding photographers and try to team up with them for referrals. If your talking to customers who are using your wedding services then you can recommend other associated businesses. It costs you nothing, yet the more you recommend others the more likely they'll be willing to promote you, this is mini networking.
You need to keep up with the times of your business is going to survive.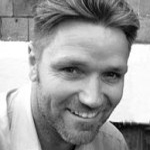 Dean Williams is a design and marketing blogger working for Print-Print Limited, promoting business and building brands through quality print marketing. If you're interested in small business promotion then please get in touch hello@print-print.co.uk