Due to their sheer size, Posters have had the obvious advantage of grabbing readers attention over other printed products. Traditionally made up of graphical images, text and bright contrasting colours – posters have been used for hundreds of years to promote propaganda, demonstrations and in more recent times promote films, concerts and large public events.
Unlike other printed promotional advertising such as leaflets or booklets, posters are used to shout at their reader from a far, however in other environments such as doctor's surgeries, waiting rooms and hotels a more informative approach can be taken to pass on more detailed information in an educational format rather than a shock tactic.
We have listed below some elements, which need to be considered when designing your poster.
BACKGROUND COLOUR
Choose your background colour wisely, so it doesn't overwhelm your design. Most posters have the important information to the front, the background is either used to break up the blank space or to enhance the text in the foreground and help it stand out rather then hindering it.
MINIMAL COLOUR 
Be careful not to go too wild with colour. Everyone wants an eye-catching design, but colour is complimentary and needs to be used sparingly. Sometimes a contrast of two colours can be very effective, just plain old black and white for example has been used for many years with great success, whereas too much colour can cause the opposite effect and cause your design to become too busy, less is more is certainly the way to go here.
KEEP IT SIMPLE 
Keep your design concise and to the point, the information you choose has to be the salient headlines of your message. There is no place here for fine detail. Once of the most iconic posters ever produced in 1914 for the war effort was Lord Kitchener's 'Your country needs you' Simple and very engaging through a powerful illustration, which used strong eye contact to grab your attention.

READING FLOW
Make sure the flow of your poster design is easy to follow. By 'flow' we mean that the main heading text will be read first, then any sub heading and any call to action if necessary. Your readers don't have time to second guess what information is the most important and what is secondary, so make sure that there is a big enough difference between the initial message and the further detail.
How long does it take to read a poster?
Your readers have only a matter of a few seconds in order to absorb the information on a poster, they could be walking past it or driving past it – so be sure to double check how long it takes to read. A poster on a busy main road will need to be so concise its readable in less than 2 seconds, however a poster in a bus stop or hospital waiting room can contain more details as people have much time on their hands and are glad to read stuff in order to pass the time. If you are opting for a poster to be seen when people are on the go, then test it's readability on your colleagues or friends, make sure they get the message in the quickest time possible. As them to look away then look at the poster for a second then look away again… did they get the initial message?. Do the test again but this time for two second… did they get the secondary message? Then depending on the results you may need to adjust your design.
What resolution do I need to produce my poster at?
It's very important to use any images and graphics at the correct resolution. Don't expect a small A7 flyer you many have had produced will make it up to an A0 size without it becoming blurred. There is a certain amount of compensation given to posters though, they don't need to be produced at 300dpi as you would a brochure or handheld leaflet. This is due to the distance you would normally be when reading a poster, when reading most things you are at arms length so a minimum quality of 300 dpi is recommended. But a poster you stand a few feet away from, so it's possible to reduce the resolution to 150dpi when designing an A2 or larger poster.
What fonts should I use for my Poster design?
To ensure the highest possible impact then easy to read fonts are best. It's not good using an intricate script font for any headline grabbing text, it will be glanced over and the message be lost. Its also not a good idea to mix the fonts styles too much, complimentary font styles work best, keeping fonts within the same font family work well, but the odd completely different font helps to break it up and creates visual interest.
THE POWER OF A HEADLINE
Grab the attention with a memorable headline, think of how the tabloid newspapers achieve this. Very large type containing no more than 6 words, then a secondary message which leads you in further (only if you are interested in the headline of course)
CALL TO ACTION
Once your reader has understood the message, what do you want them to do next? Give them direction here, how do they contact you or how can they obtain further information to hopefully buy your products and services? Add the relevant contact details, do you want them to telephone go to your website or contact through social media? But be careful and don't over do it.
Having too many points of contact will no doubt clutter your design but it may confuse the message. Keep it to one or two, three if you must then 3 but no more.
QR CODES
Poster printing is where QR codes can be really useful. Your readers can scan the barcode quickly using a smartphone and be able to further their interest later without having to make any contact now as they are likely to be passing the poster without the time to jot down contact information. With digital poster printing you could 'A-B' test the success of the poster using different QR codes. Design 2 posters maybe with slightly different headlines or messages, then use a different QR code for both, this way you can track the success through a landing page on your website, if one message is more effective than another then you can tailor the design to further the success.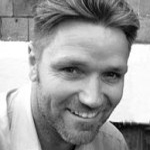 Dean Williams is a design and marketing blogger working for Print-Print Limited, promoting business and building brands through quality print marketing. If you're interested in small business promotion then please get in touch hello@print-print.co.uk