Many business shy away from Google Adwords and I can see why. When you first log in it quite overwhelming, a very unfamiliar landscape of terminology, tools and options that appears to require a degree to understand. But it is worth persevering, Pay-Per-Click isn't for everyone but there are advantages and application that can really help your business.
Getting started with Google Adwords
So where do you start? Well you need a landing page. The landing page needs to make the conversion, it does most of the work so the more bespoke to the ad and keywords you can make it the better your conversion rate will be. Your results will look terrible if you get lots of clicks but little if any conversions because your landing page just isn't relevant enough or doesn't provide a clear tempting call to action.
Your landing page doesn't have to sell something, it could be a free download, subscribe to a newsletter or request a quote/call back. This is a very important stage as Google will check the page and make sure it is relevant to your ad. If it is not, your 'quality score' will be impacted and your ad will drop down the rankings, regardless of your bid value.
Selecting your Keywords
The next step is keywords, at least 10-20, and you need to really give this some thought. Put your customers hat on and imagine what terms they would use to find your products or service. This can be refined by monitoring your results and adjusting your keywords to those that provide the best return. But for now you need to generate a starting point.
Say you're a travel agent and you want to promote summer beach holidays in Europe. You can use the Keyword Tool in Adwords to help generate relevant keywords and then select the ones the suit your budget and are perhaps less competitive.
The example below shows Google's suggestions and the four that I selected for the summer holiday example.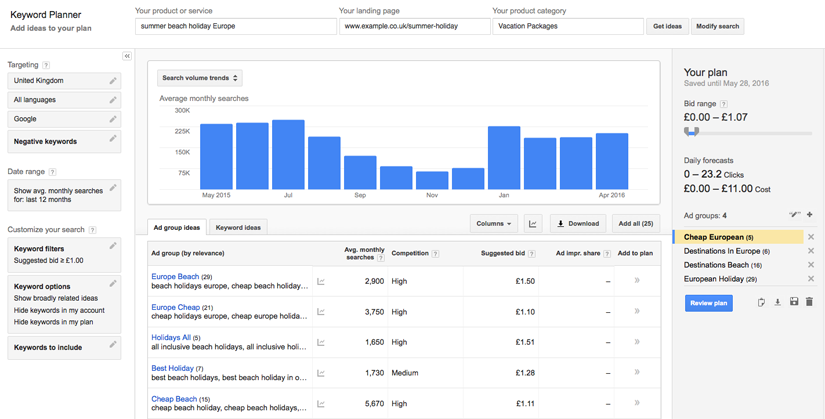 The number in brackets after the keyword is the relevancy score. I chose four (the ones to the right, under 'Your plan') that had a good relevancy but these were also had medium competition, giving me a higher chance of winning the bid for a lower amount. If you're a small business getting started it is better to go with long tail keywords that are more specific to you. In this example, it would cost a lot to rank for 'holiday' and the conversions would be lower as they could be looking for anything, clothing, images, transport or a song by Madonna.
Creating your Ad
Once you have your keywords you can create your first ad. Once you work through the options this is not as daunting as it seems. There are helpful little question marks next to all the options that not only explain what the selection is, but make suggestions as to who the option best suits. For the first timer, go with the Standard search network only option then refine your geographical audience and set a budget.
Below you can see a new Campaign for the summer holidays. This campaign has two adverts, one for 'summer beach holidays' and one for 'family beach holidays' both with separate landing pages. I choose a daily budget of just £50 with a max Cost Per Click (CPC) of £1 to show the estimated results on a tight budget.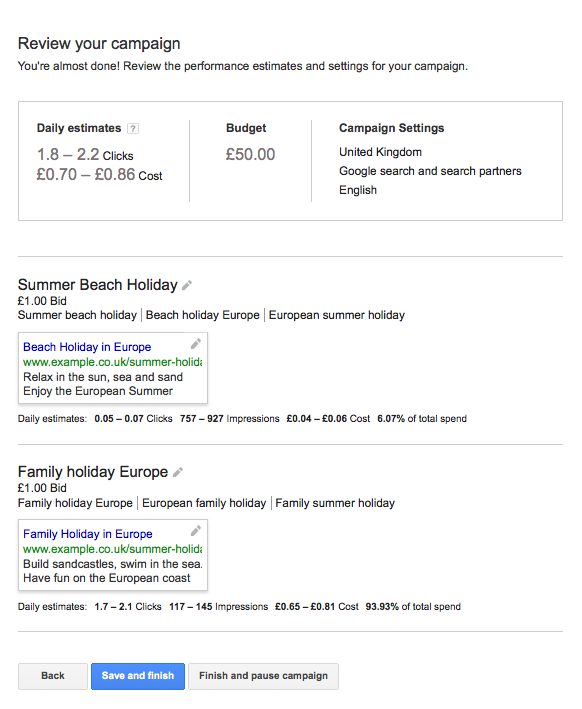 You can see that for these ads, I have entered just three keyword phrases. This is just a starting point and I would certainly want to add more keywords to improve the results these ads would be relevant to by capturing the various ways searches are written.
Under the ad preview is the daily estimates that show the low results for these narrow ads, just a couple of clicks. More keywords would naturally increase this number, as there would be more relevant searches.
But this could be a good way to start out, if you're not sure and worried about the cost running away, then be more specific with your keywords to limit the matches. Clearly Google will try and spend your budget every day but if there are not enough searches matching your keywords, your bids are too low or your ad is not relevant then they may struggle.
Get valid clicks
Creating the ad itself is straightforward, you have a few text boxes to fill in to capture the attention of your audience and entice them to click. Remember, you really want people who are genuinely interested in the content of your landing page, so make sure the ad you create reflects the landing page. Consider the key benefit of the offering on the landing page and try and promote in the limited 35 characters for each line in the ad.
Have a play with the tool and create some sample ads, just select the finish and pause campaign option and nothing will be launched till you reset this. You can create multiple campaigns or adverts as your get to grips with the options and wait till your happy with your final campaign before you make the ad live… and start paying for it.
This is the second instalment of the 'Get started with online advertising' articles, if you missed the article last week 'Online Advertising with Facebook' then why not check that out here.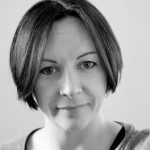 Lisa Cooper is a photographer and marketing writer working for Print-Print Limited, promoting business and building your brand through quality print marketing.
If you're interested in small business promotion then please get in touch info@print-print.co.uk