Whenever a job is placed on a printing press it is susceptible to a slight movement.
Printing presses are incredibly accurate, they have to be in order to ensure that colours are printed in the correct position, especially when printing in close register using CMYK, where any slight movement between two colours can lead to the final job looking like its a 3D image.
The slights movement with any of the Cyan, Magenta, Yellow or Black plates will lead to a print job which leaves you rather nauseous when you read it.
However that said, once the sheets have been printed and are dry they are transferred to the guillotine where a slight movement is a possibility.
The problem is that the guillotine operates with numerous sheets normally stacked up high, these sheets obviously had air flowing between them whilst they were running through the print process.
Once the sheets are stacked under their own weight the air is gradually pushed out, from the bottom of the pile upwards. But towards the top of the pile a very tiny amount of air can cause the sheets to not lie in the exact uniform manner.
This slight movement, and we are talking of a fraction of a millimetre up to a maximum of 2 millimetres at most.
But this movement maybe critical to your design. Especially if you have text close to the edge of the trim line.
This is why its a good idea to have a design 'no go' area or a border in which important information is kept from.
This area is usually refereed to as the 'maximum copy area'. The border is an imaginary 3-5mm all around the edge of your design, this takes into account any slight movement on the guillotine and doesn't compromise your design.
We have illustrated here with a green border, the orange border denotes the bleed edge, this will be trimmed off after the design has been printed. If you are designing a brochure with multiple pages then your design needs to take in to account 'push out' which is when the outer pages have further to travel around the folded spine and this can be devastating for a design especially if you brochure has 48 or more pages and maybe printed onto paper stock thicker than 130gsm.
Background colours and images which are not crucial need to run to the edge of the trim edge and beyond into whats known as the 'print bleed' area. By running the colours to the edge means that the final design is printed edge to edge in colour, any artwork we receive without the correct bleed may also fall foul of a similar problem with the document moving on the guillotine.
So our best advice is to keep any text or crucial images approximately 5mm away from the trim edge.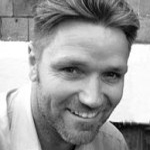 Dean Williams is a design and marketing blogger working for Print-Print Limited, promoting business and building brands through quality print marketing. If you're interested in small business promotion then please get in touch hello@print-print.co.uk