Make your first impressions count
As an entrepreneur, you trade on your reputation, whether you like it or not. So it's in your best interests to protect your good name. Here's a five step checklist to make sure you make the right first impression:
1 – Live by your values
Know what your business stands for, and live up to your own ideals. That means ensuring everyone in your employ is trained to provide excellent customer service, and setting a good example.
You never know when you're going to meet someone who could have a massive impact on your business, good or bad, so extend those values into your personal life. There's no harm in letting your hair down and having a god time, but never do anything that you wouldn't be happy to share with your customers on your web site or social networks.
2 – Live in the moment
That doesn't mean ditch planning and drift from one day to the next. It means giving all of your attention to the task in hand. If you're in conversation with someone, listen to them, instead of thinking about what you're going to say next. If you're working on a project, block out distractions until you can deal with them properly.
3 – Live your image
While dressing for success is a part of this, it's not all about having sharp suits and designer clothes. Clean and presentable is good enough. It's more about personal grooming and attention to detail. Think about the image you want to convey. Is it down-to-earth, respectable family man, practical eco-friendly warrior or high powered executive? Take a look at your wardrobe and make sure what you're wearing (and driving) reflects the image you're striving for.
4 – Live to learn
When you know your onions, it's ready to engage in important conversations with confidence and share your passion. You can't afford to rest on your haunches and let industry developments overtake you. Stay informed by reading relevant journals, stay connected on social networks and run a regular search for key terms using an RSS feed reader.
Also consider personal professional development. Training courses not only keep you up to speed, they offer valuable networking opportunities.
5 – Live for others
It's a truism that people don't care how much you know until they know how much you care. If you really want to make a good impression, forget shouting about yourself and wondering what each new person you meet can do for you. Instead, step back and think about how you might help them. Whether it's passing on a contact's details to a potential business partner or client, or forwarding information that could help them solve a problem, be prepared to go out of your way to help others.
Then follow up to see how they got on. If things went well, you might be surprised at the ideas that come your way in reciprocation. If not, offer more ideas until something sticks. Your new contacts will love you for it, and become your most ardent advocates.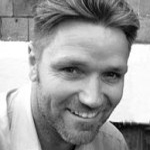 Dean Williams is a design and marketing blogger working for Print-Print Limited, promoting business and building brands through quality print marketing. If you're interested in small business promotion then please get in touch hello@print-print.co.uk