It's been a tough year for most of us.
Between the ongoing pandemic and the upcoming Brexit deadlines, almost every SME in the country has had to face challenges and make changes to the way they run their businesses.
And with so many unexpected shifts in consumer behaviour and customer buying habits, plenty of smaller businesses have had to radically rethink the way they connect with their customers and reach new audiences.
So what exactly has Covid-19 meant for SME marketing this year?
We wanted the facts – so we went straight to the source.
In November 2020, we asked more than 1,100 Print-Print customers to take part in our biggest survey yet: a 20-part questionnaire designed to dig deep into the most important marketing problems and solutions that businesses like yours are dealing with.
We've now collected and processed all of that data – and we're ready to share our insights back to the huge number of businesses that helped us compile these essential marketing insights.
So if you're one of the 1,100 businesses that took part in our survey – thank you!
You can check out our handy infographic summarising the key findings below. you are welcome to download it. (see the links at the bottom)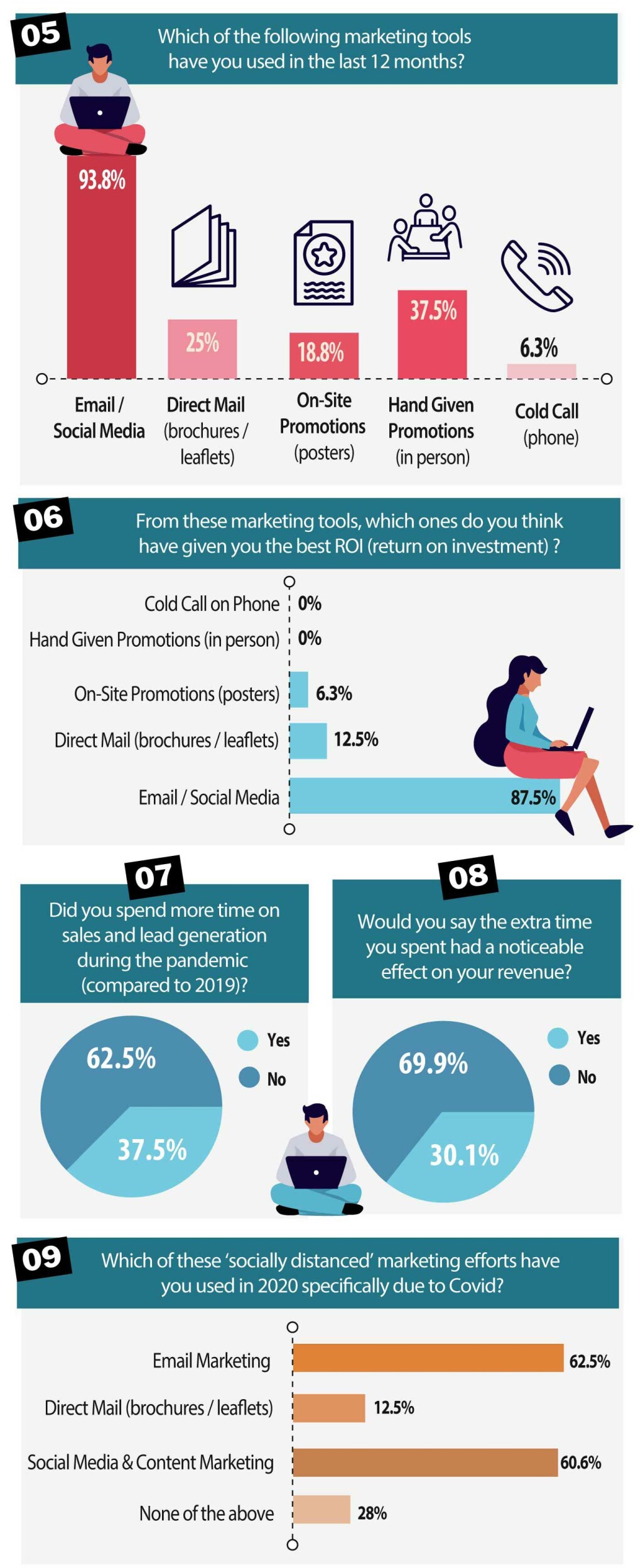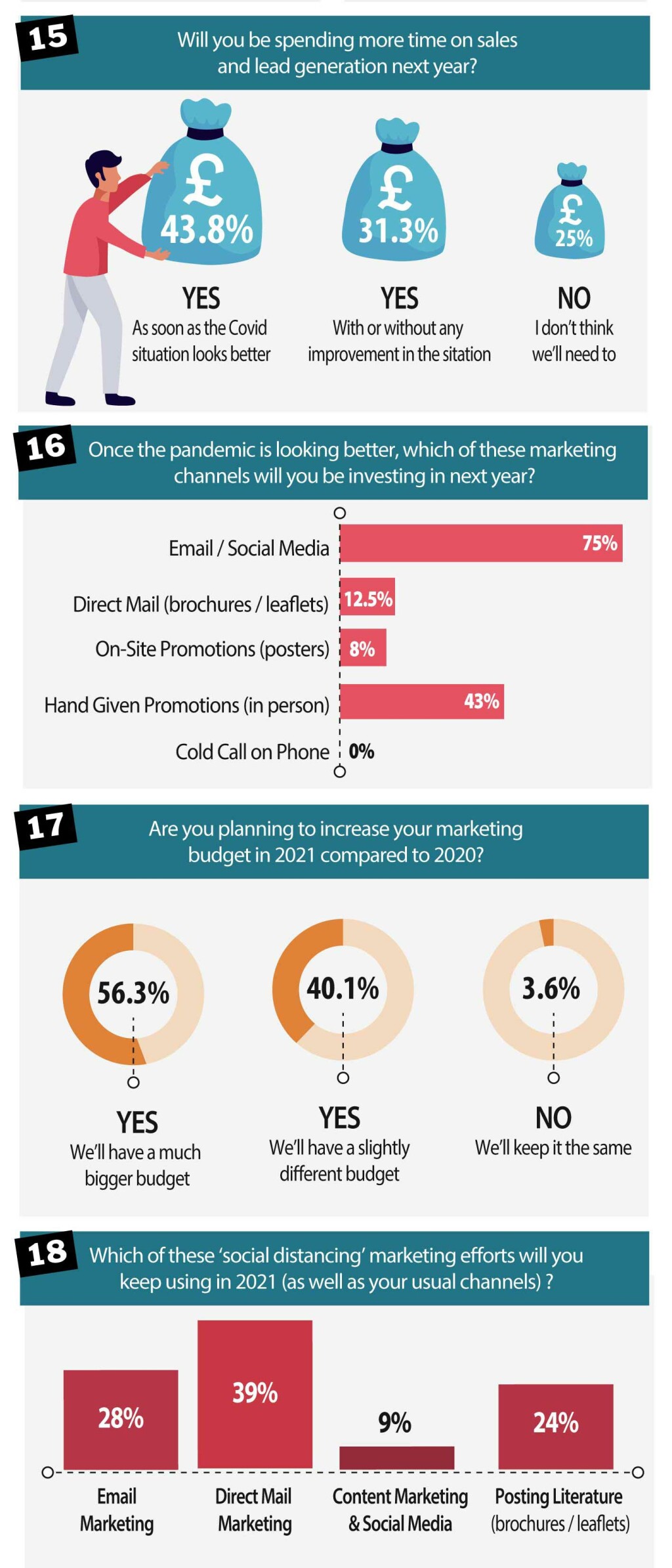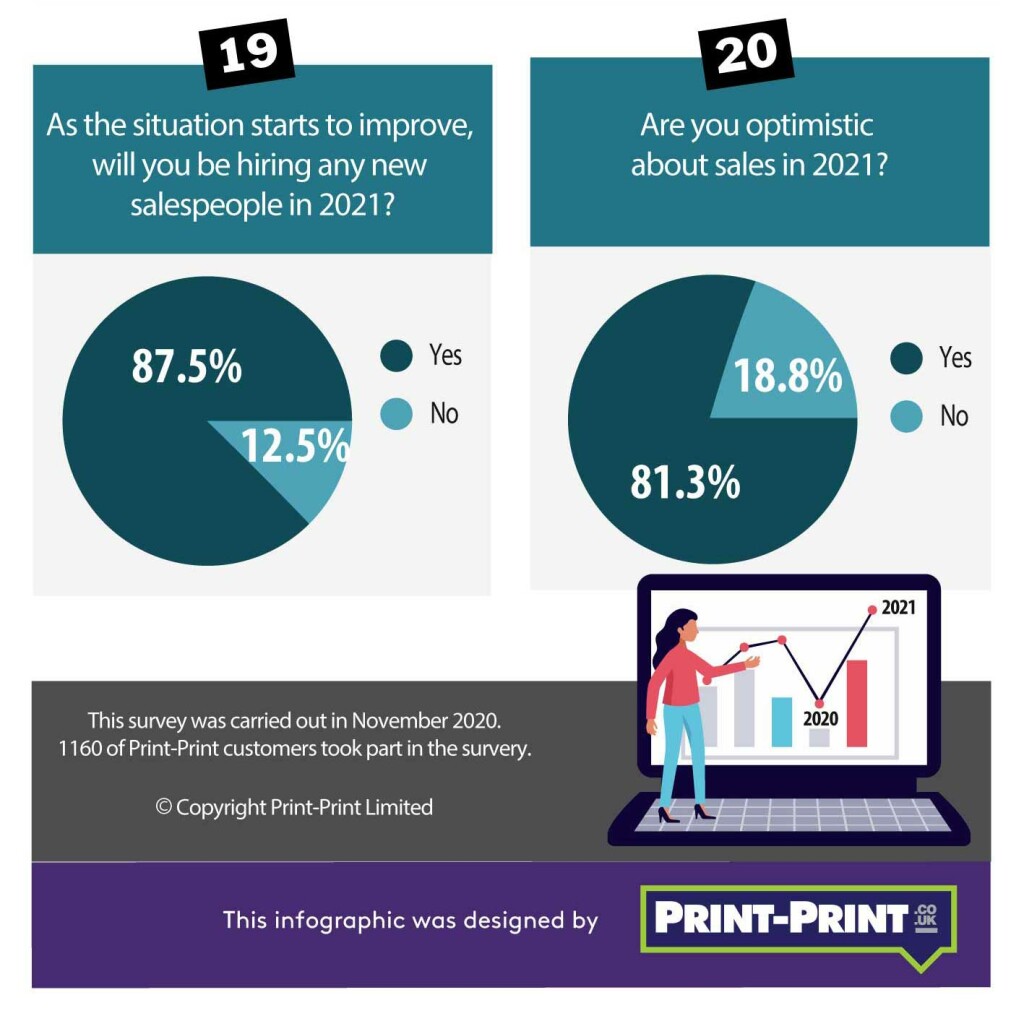 Here are the highlights of the survey:
Marketing budgets and cuts..
– Just over half (56.3%) of UK businesses made cuts to their marketing budgets this year
– More than half of businesses slashing their budgets by 50% or more
– 100% of businesses said they'd been able to keep all of their salespeople employed
Ready to bounce back..
– Nearly 70% of businesses are planning to start spending again once the situation improves
– More than 86% are planning to bring back at least half of their old marketing budget.
Trying new things..
– 77% of UK SMEs said that face-to-face sales was the marketing channel that had suffered the most this year.
– Almost 90% of SMEs focusing more on email, social media, and PPC marketing this year
– 25% of UK businesses were using brochures and leaflets in direct mail campaigns
– More than 62% of businesses have spent more time on sales and lead generation than they did in 2019
Promising results..
– Almost 70% have seen a noticeable improvement in their revenue as a result.
We learned a lot from the pandemic..
– 12.5% of UK SMEs listed direct mail as the marketing channel that gave them the highest ROI (Return on Investment).
– 75% said the pandemic had made marketing more important to their business than before.
More optimistic than ever..
– 81% of UK SMEs are optimistic about sales in 2021.
– 31.3% are planning to do it regardless of whether the pandemic situation improves.
– 39% planning to continue their newfound success with direct mail.
– 12.5 % will be hiring new salespeople
– 96.4% planning to increase their marketing budget in 2021 compared to 2020.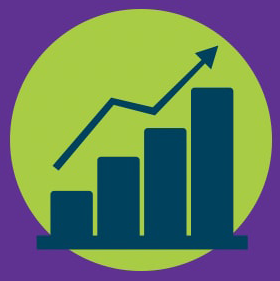 Ready to grow your business in 2021?
We've all learned a lot this year – for better or worse. But if there's one thing our survey has taught us, it's that 2021 is going to be a huge year for recovery and growth.
So if you're looking to make the most of your marketing budget in the year ahead, give us a Call: 01952 850730 or Email us here – and we'll help you find the best ways to reach new customers (without breaking the bank).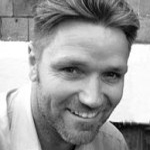 Dean Williams compiled the research and produced this infographic. Dean is a design and marketing blogger working for Print-Print Limited, promoting business and building brands through quality print marketing. If you're interested in small business promotion then please get in touch hello@print-print.co.uk