Creating an order of service for a funeral is a lot more than just putting together an itinerary.
It's a chance to work together with your friends and family. Choosing the photos, messages and sentiments that symbolise the life of someone close to all of you, and deciding together the best way to present that celebrated life to a larger circle of friends and acquaintances.

And for those who won't be able to make it to the ceremony, a funeral order of service is the next best thing to actually being there.
It's a concrete connection to the person being celebrated, and something they'll be able to keep for years as a reminder of how that person was honoured.
While it might not seem like the most urgent part of your preparations, the finished booklet could end up being the longest-lasting – so you ought to make sure you create something you can all be proud of.
First, we'll cover the content of each section of the order of service – which sections to include, and what needs to go in them. After that, we'll get into the design – how to create a smart, vibrant souvenir that best sums up the life of a loved one.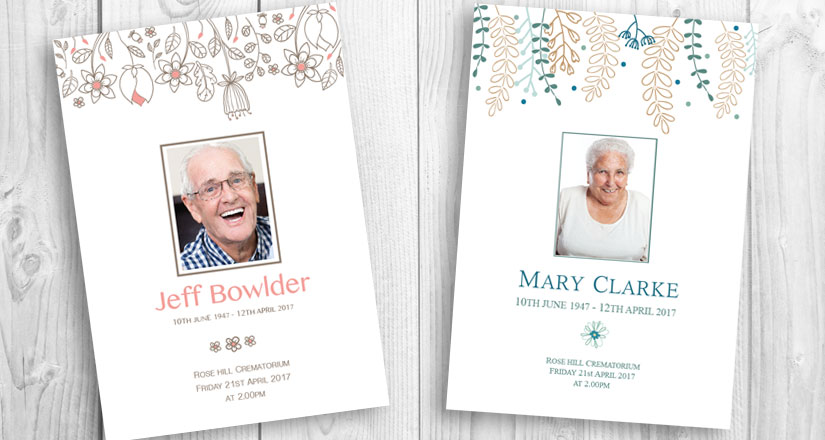 Simple yet modern cover designs
Deciding on the Cover page
Just like the front cover of a book, it's best to keep things simple. Most funeral booklets will have a front page that contains
A photo of the remembered person
Their full legal name
Their birth date and the date of their death
An optional short message, quotation or sentiment – or sometimes just the location and time of the service.
The photo you choose should be one that's simple, and focused on the person being honoured. You might have some group photos that capture a happy memory or certain emotion, but a solo photo ensures that there's no confusion for those attending.
Do You Need Funeral Order of Service Printing?
Order today before 1pm, Get Next Day Delivery
And if you have plenty of options, spend some time with your friends and family to choose a photo that best represents the character of the celebrated person.
If they were known for their dedication and selflessness, that might mean choosing a photo from their military service. Or if they were always easygoing and playful, you could choose a photo that shows them relaxing on a beach, or laughing at a party.
While the ceremony itself is almost always a serious affair, don't feel that the photo on the cover page has to be. When your friends and family pick up the booklet years later, it's no bad thing if they see a memory that makes them smile.
Outlining the service
The next pages are usually where you'll find the schedule of the ceremony itself – a simple list that tells those attending what will happen and what to expect. There's no strict format or order to follow, but the service might include:
A musical procession as the mourners enter and assemble.
An introduction from your community leader or a particular speaker.
Music, songs, hymns or poems. The specific hymns or scripture verses are usually listed for reference, and highlighted in bold.
Readers and speakers recalling memories of the honoured person – these speakers are usually named in the order of service.
Group prayers, hymns or music.
Committal and blessing.
Closing music. The music at both the beginning and the end can be named in the booklet for attendees who aren't familiar with the selection.
Of course, you'll need to check the outline of the service with the director of the ceremony or your community leader before you go to print. Depending on the venue or the place of worship, they'll often have a particular way of running things – and you ought to make sure they can fit in your plans before you promise anything in your booklet.
Adding some detail
After you've outlined the service, you can use the next few pages for some extra insights into the life of the person being celebrated.
That could mean creating a collage of different snapshots from their life, or writing down a few of their favourite quotations, proverbs or scripture verses.
You could also use a few original thoughts or sentiments written by your friends and family – anything that you want people to remember when they think about the person who was close to you. And, just like the front cover photo, it doesn't hurt if you give your readers a thought or image that makes them smile.
Some families have even displayed a timeline of the person's life, picking out a few of the most important events and marking the dates with photos where they have them – graduation ceremonies, their wedding day, and a few milestone birthdays, for example.
Coming to a close
The final page of the funeral booklet, just like the front cover, is usually kept simple.
First, it's customary to include a closing photo of the person being remembered – perhaps this time in a group photo with their family or friends, or in a photo that shows a different side of their character to the ones you've used earlier.
Second, it's a good place to mention any preferred charities for donations. That could be the cause that was most important to the person being honoured, or maybe a charity that helped and cared for them during their later years.
As you approach the end of the booklet, it's a good time to express your thanks to those who attended the service, and to extend your warm wishes to your more distant friends and relatives who received a copy of the booklet but couldn't attend the ceremony itself.
You can also include your thanks to the company that provided the funeral services. It might seem like a strange addition, but plenty of people do appreciate this detail – especially if you've used a local company that's known within your community and you feel have supplied an extra special service.
And finally, you can finish off the booklet with the details and location of the burial and the wake or reception that's to follow the service – so as the mourners come to the end of the ceremony and the booklet, they know where to go and what to do next.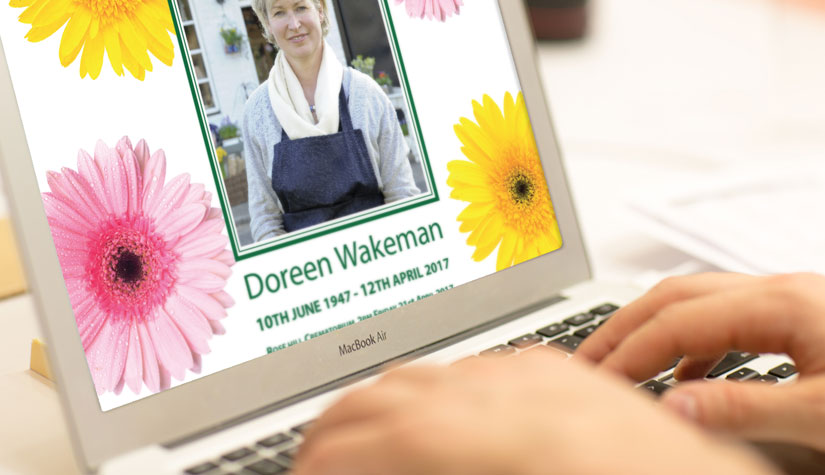 Designing a funeral order of service booklet
With the content set in place, it's time to start thinking about the overall design and layout of the finished order of service.
Choose a size and construction that fits the content
Depending on how many pages and how much information you need to include, you could use anything from a folded sheet of A4, up to a fully bound multi-page booklet.
Traditionally, lots of funeral leaflets have been double-sided A4 pages folded in half. But these days, we see more families choosing A5 booklets with as many as 8, 12 or in some cases as much as 20 pages.
With this extra space, you'll be able to include all of your favourite photos to represent every aspect of the personality and life of the person being remembered. And as a lasting keepsake for the mourners and relatives who can't attend, a longer booklet gives them more photos, sentiments and memories to look back on.
Choose a style early on and stick to it
Depending on your family's own traditions – and also on the character of the remembered person – you'll need to choose an artistic style for your booklet.
Some prefer to stick to the classic style of white flowers and soft-edged images. Others prefer a more modern, minimalistic design – or even a bright and colourful approach that embraces a dynamic life.
Personal Funeral Order of Service Booklets
Order today before 1pm, Get Next Day Delivery
However you go about it, it's best to choose one style and be consistent throughout. And if you're struggling with the visual side of things, we're happy to help out with a few designs of our own.
Choose a paper-weight that gives you the right balance
While lightweight paper helps to keep the costs down, a booklet with heavier paper will last much longer, and will feel like a higher quality product when held in the hand.
Our funeral booklets, for example, are printed on 160gsm, which is a medium-weight paper, with an optional 250gsm cover for booklets that are intended to last.
Choose a font that's easy to read
It can be tempting to go with highly ornamented fonts for an important occasion.
But in reality, many of the people attending will be of an older age, and fancy calligraphy just makes things harder to read. Instead, try to stick to a font that's clear and dignified, and a font size that makes your messages accessible for everyone.
Don't be afraid to add colour
In the past, many funeral booklets have stuck to the traditional black and white colour scheme.
But it's a tradition that's got more to do with the historical limits of photography – and the need to keep costs down – than it has to do with sombre emotions.
In reality, the difference in cost between a black and white booklet and a colour one is small – and the difference in sentiment and impact when celebrating a life in colour is massive.
Typically, families used to stick to the standard folded A4 sheet in black and white for their orders of service. It's what would have come packaged in with the service from their funeral company. And while that might have been convenient, it didn't always do justice to the person being remembered.
Today, everyone has high-quality colour photos of their favourite memories, and of their favourite people. Families are choosing these colourful and vivid photos for their multi-page booklets to better capture the tenacity and energy of the people being remembered, with full-colour portraits and collages that won't mute the vibrancy of a celebrated life.
Just remember that colours need to be chosen carefully. Too many conflicting colours in your artwork can make your booklet seem garish or busy – so a measured approach is usually best.
To sum up…
It's not easy to stay organised and make progress during difficult times.
But with an understanding of what's expected from a funeral order of service, you'll be able to put together a physical reminder of a celebrated life that your friends and family can treasure for years.
Just remember to:
Keep the overall design simple and uncluttered
Use easy-to-read fonts at a good size
Choose colour photos that best capture the character of the remembered person
Give enough information for both types of reader – those who are attending, and those who can't make it.
Still struggling to design your own Funeral Order of Service?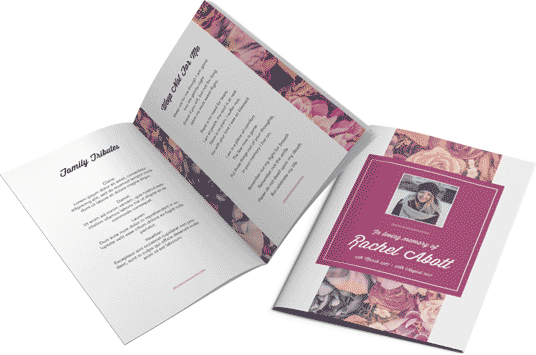 When you're ready to get your booklets printed checkout our Funeral Order of Service Printing or if you need a little extra help getting the design right, just give us a call on: 01952 850730
Images Courtesy of: www.pixabay.com and www.freepik.com.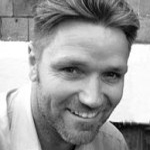 Dean Williams is a design and marketing blogger working for Print-Print Limited, promoting business and building brands through quality print marketing. If you're interested in small business promotion then please get in touch hello@print-print.co.uk