From Ai doctors to stem-cell burgers, we're headed for a future full of real world science fiction.
In this infographic, we'll look at some of the technology that's about to
change the world forever – for good or for bad.
The future's not set. But it looks like things are going a certain way.
HEALTHCARE WILL START AT HOME
We're already about to see the completion of a real-life Star Trek Tricorder that works just like a traffic cops' breathalyser – except it can diagnose 17 different diseases, incising some cancers.
Your wearables will keep your doctor up-to-date with real-time reports of your vital signs, and everyone will have an early heads-up on their genetic affliction with a personal genome map.
And if the worst happens – like your bathroom mirror telling you that you're heading for a heart attack – you'll get your doctors to grow new organs to replace your worn out ones.
DRIVING WILL BE A THING OF THE PAST
By 2021, we'll start hailing robot taxis with our smartphones. By 2025, millions of people will be able to afford their
own driverless cars.
We'll all buy cheaper homes further out from city centres, getting a head start on the day's work while we let our machines deal with the rush our traffic.
Our digital drivers will put us all to shame, lowering fatal traffic accidents by as much as 90% – and our children will laugh when they learn that we used to get around by operating a system of foot-pedals and switches.
Ai WILL BE EVERYWHERE
Just like our driverless cars, the artificial intelligence of the future is set to surpass all human ability. In fact, it's already happening now.
Law firms are conducting legal research with Ai that can read through a billion text documents per second. It produces the answers to questions faster and more accurately than humans, lawyers' and frighteningly, it can learn over time to get better at its job.
In the medical field, that same Ai is diagnosing cancers with a 90% success rate, whereas real human doctors are struggling to keep up, with a meagre success rate of just 50%. So in the future, we could see most of our trained professionals being replaced.
YOU WON'T KNOW WHAT YOU'RE EATING
Scientists have already chowed down on the world's first lab grown hamburger – and in as little as five years time, you could be doing the same. By growing cultured meat in labs, we'll be able to use 90% less water and land, consume 50% less energy, and hopefully let millions of vegetarians enjoy a guilt-free steak.
And if you'd rather see an all-natural option on the menu, edible insects are being recognised as a valuable source of proteins and vitamins.
They're also far more efficient to farm – so you'd better get used to the idea of 'roached eggs' and 'french flies'
SO WHAT DOES IT ALL MEAN?
In short, get ready for a vastly different future than the one you might expect.
– You'll diagnose your own ailments in the comfort of your own smart bathroom.
– You'll consult digital doctors and laptop lawyers, and you won't see a real taxi driver or driving instructor ever again.
– You'll get nostalgic about burgers that used to moo, you'll wonder how you ever managed to parallel park, and you'll probably lose your job to an automaton.
And to top it all off, we'll be living linger – which means there'll be plenty of extra time to be unemployed.
Just don't forget to look up at the sky for the flying cars!!
This infographic was brought to you by Print-Print.co.uk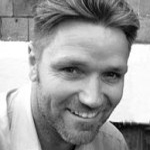 Dean Williams is a design and marketing blogger working for Print-Print Limited, promoting business and building brands through quality print marketing. If you're interested in small business promotion then please get in touch hello@print-print.co.uk