Here we will endevour to provide information dedicated to folding of leaflets and booklets, explaining the issues faced when creating artwork and the way in which you need to supply artwork files ready for folding.
Folded leaflets come in many varieties, from single fold A4 to A6 greeting card. There are a number of design considerations depending on what size you have or the number of folds. Each type will be better suited to different purposes and the information you are wishing to contain within them.
It is important to look through these design points, from guide lines in the downloadable template files, to the additional considerations on paper finishes.
Firstly, there are four standard sizes available. These are listed in the paper sizes they use, i.e. before they are folded.
Product
Laid out flat dimensions


(without bleed)

Folded closed dimensions


(without bleed)

A3 Half Folded to A4
420 x 297 mm
210 x 297 mm
A4 Half Folded to A5
297 x 210 mm
148 x 210 mm
A5 Half Folded to A6
210 x 148 mm
105 x 148 mm
A4 twice Folded to DL
297 x 210 mm
99 x 210 mm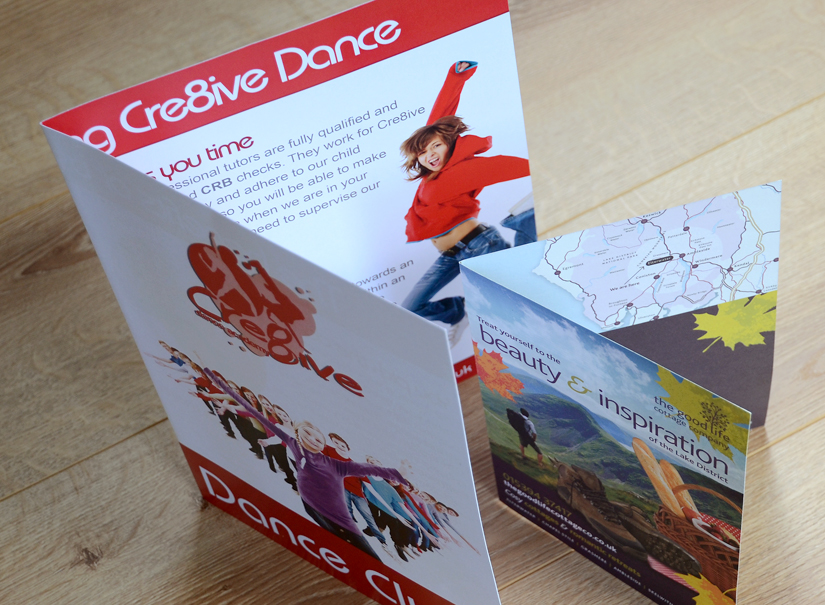 Half- Folded
The most common fold is whats known as a half fold. As simple as it sounds, a sheet is folded in half through the centre. We currently offer half folds for the following: A3 folded to A4, A4 folded to A5, and A5 folded to A6.
Tri-fold
Another very common folded leaflet is an A4 folded to a third, although this called a 'tri-fold' leaflet you would imagine it has three folds, yet its only folded twice.
There are two ways of folding a tri-fold leaflet, either a 'Roll fold' or a 'concertina or 'Z Fold'. A Roll fold 'tri-fold leaflet is the most common. This is when the flap panel is folded in a 'rolling' over manner to close the document, if you look at the profile edge then you'll see the document is almost in a roll shape.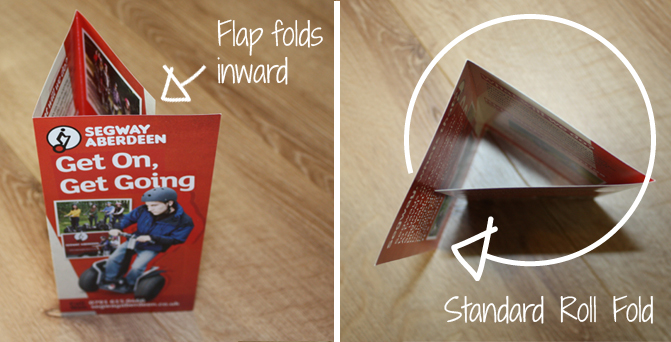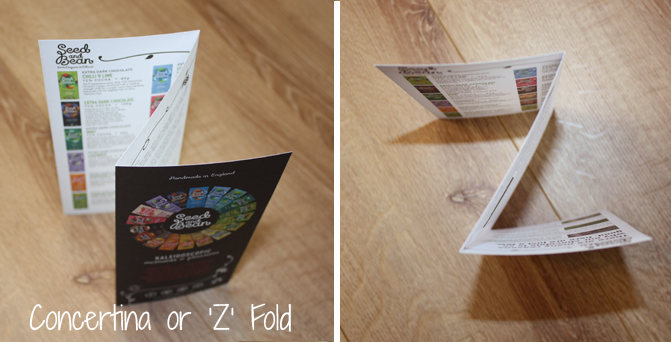 The 'Z' fold is when the document folds back on itself and creates a 'Z' shape profile. Whilst a Roll fold is the most common, some customers prefer a 'Z' fold as it has employs two front covers.
Is artwork for a 'roll' fold different to a 'Z' fold?
Yes. With roll fold its best to have the flap slightly shorter by a few millimeters for the flap to close more easily and without the concern that it may buckle. So if you look at an A4 sheet when flat, we suggest it's best to have the flap panel 3mm shorter and the other two panels are 100m wide. See the diagram below.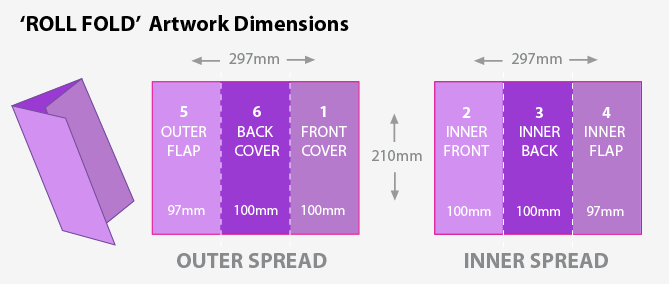 A 'Z' or concertina fold is slightly different as it doesn't suffer the same issues with the flap folding inside. So each of the 3 panels is 99mm wide. See this diagram for how you need to set out your artwork.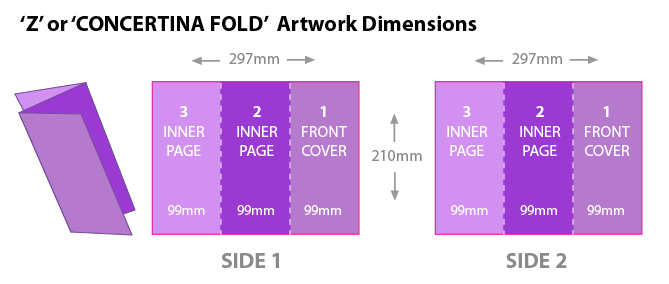 For A4 and A5 sizes there is an alternative fold option for greeting cards. This fold style allows you to create a landscape card and position the artwork to be upright either way round when closed.
We have a series of blank artwork templates using the Adobe Design packages InDesign, Illustrator and Photoshop. These files contain guides for important areas such as 'bleed area' and the 'safe zone' to ensure your artwork is perfect to print.
If you need or you need a bespoke size, please feel free to call us on 01952 850730 or e-mail artwork@print-print.co.uk and we will create your ideal template and email it to you for FREE
The template will have the guidelines that show you the considerations you need to make when placing content into your design. These guides start from the outer edge as follows:
Green is for the Bleed area. Any images or coloured backgrounds that you want to cover the full area, edge to edge, must exceed the trim line by 3mm to allow for any shift when begin trimmed.
Pink represents the Trim size. This is the finished area of the document when laid out flat. So an A4 Tri-fold leaflet would be the size of an A4 piece of paper.
Orange is the Safe zone. The Safe Zone is what you should stay within to ensure key information is protected. This is particularly important for the 'gutter' or fold area and we will come back to this shortly.
Blue shows where the fold will be. This shows where the folds will be in the finished leaflet. This is important for the placement of information and for Tri-fold or greeting card layouts, it shows how the document will be viewed when folded closed.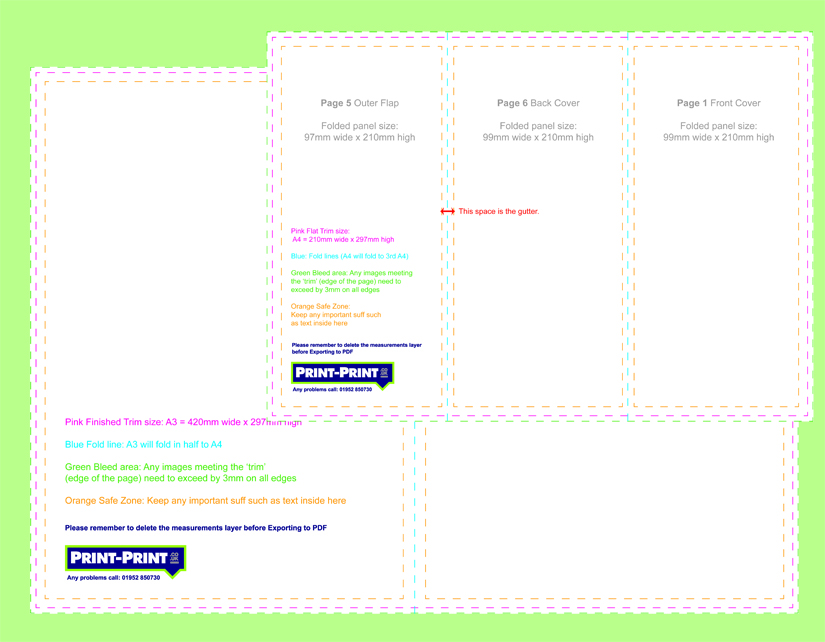 The gutter that we mentioned above is the area either side of the fold line, which is on the outside of the two orange safe zones of the alternate facing pages. This area can have a significant impact on your design as the fold can present problems for some choices design choices.
The fold can crack the finish on the paper, causing disturbance to the ink. This is especially noticeable for dark solid colours on a gloss finish and it is general suggested that you avoid text running over the fold as this can be lost. Below are two examples of cracking on the fold where dark ink has been used, the top leaflet is glass paper and the bottom is silk.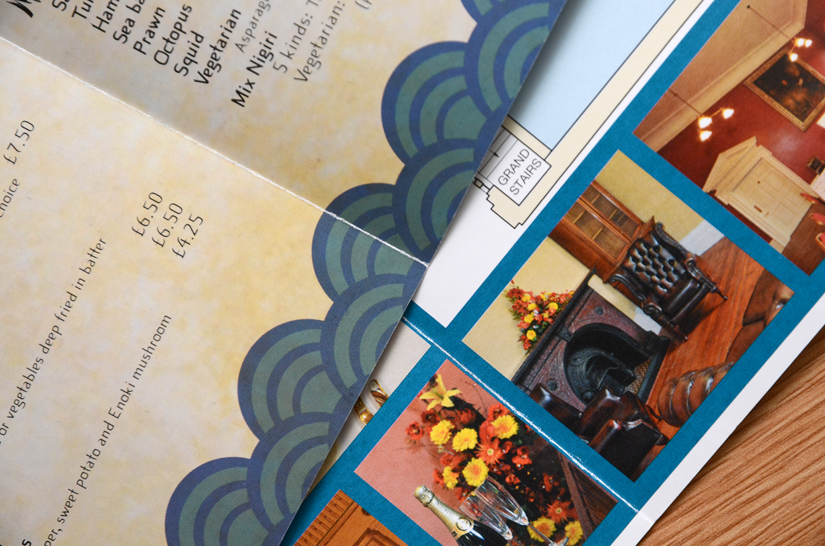 There are ways to combat this. Choosing an uncoated paper can eliminate the effect of cracking, as the paper is more supple and flexible without a finish. You can also choose to have your leaflet laminated in either Matt or Gloss finish, which will remove the problem of cracking on the fold. Below is an example of a fold on uncoated paper.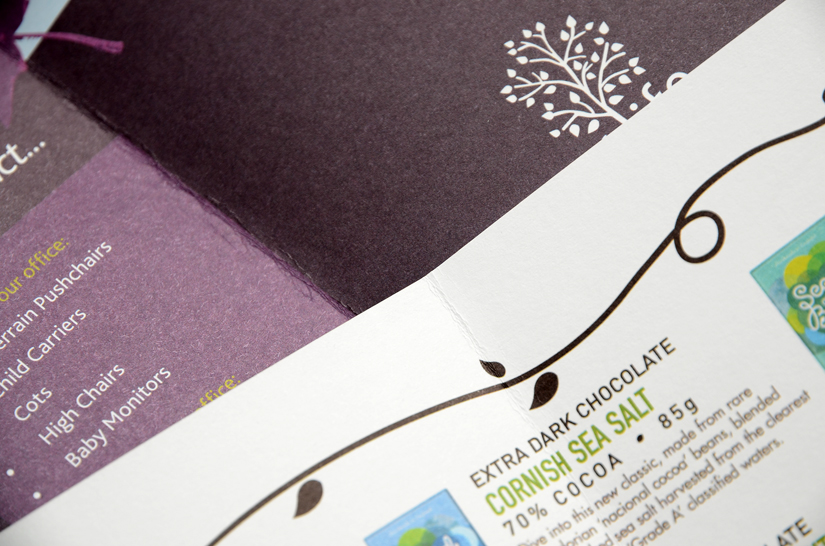 Can Print-Print help?
If you need help creating your artwork for a simple or complicated fold then please get in touch. Call us on 01952 850730 or email us at hello@print-print.co.uk
.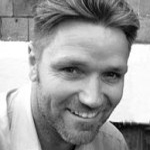 Dean Williams is a design and marketing blogger working for Print-Print Limited, promoting business and building brands through quality print marketing. If you're interested in small business promotion then please get in touch hello@print-print.co.uk