Some families choose to have funeral announcement cards printed as part of the funeral planning process. Others don't. Announcement cards are not a mandatory or legal requirement, but for some, they can help to make arranging the funeral a little easier, more convenient, and less stressful. So should you have announcement cards made?
What is a Funeral Announcement Card?
Before making a decision, it's important to understand what a funeral announcement card is, and what it's typically used for. A funeral announcement card is usually a small sized print that can be used to announce a passing, share information about plans for a service or remembrance event, and invite others to participate in a celebration of life.
The reason why funeral announcement cards aren't always used is because these details are commonly shared through word of mouth, email, or social media. However, there are situations in which announcement cards can help to take some of the strain off during the very busy and emotional period of planning a funeral, and make things just a little easier.

Some reasons why you may want to consider funeral announcement cards include:
Widespread communication: While you may be able to inform some friends and family members of funeral plans via social media or email, you may not be able to share this information with everyone through these channels, especially older generations who may not have an online presence. Mailing funeral announcement cards by post ensures that you can send vital details to everyone that you need to, and it makes sure that no one falls through the cracks.
High emotions: For those friends and family members that live locally, you can share important details about the funeral face-to-face. Some people, however, don't feel comfortable doing this. The period following a passing can be very difficult and very emotional, and it can sometimes be challenging to speak about the ins and outs of the arrangements out loud. A funeral announcement card communicates exactly what you want to say, without having to say it.
Reference: One of the main concerns with informing friends and family of arrangements in person is that there may be a miscommunication somewhere along the line, or friends and family may mix up dates or venues. A funeral announcement card acts as a physical reference point that can be stuck to the fridge or pinned to a board, making sure everyone has the correct information, and that they can reference this information prior to making their arrangements.
Details: The number of options available in terms of funeral arrangements are growing rapidly. Today, online funerals are considered to be very standard, with friends, family, and loved ones logging in from all across the world to pay their respects and say goodbye. Funeral announcement cards are a very suitable and respectful way to share meeting IDs and passwords prior to the service, and make the technical side of things a little less stark and a little more traditional.
There is no right or wrong when it comes to funeral cards. They are not expected, and it will not be out of place to inform loved ones in your own preferred way. However, they are worth considering, especially in terms of the benefits they can bring. Check out our A6 funeral announcement cards to see if they could be right for you and your family.
Do You Need Funeral Announcement Cards Printing?
Order today before 1pm, Get Next Day Delivery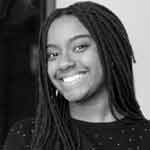 Naomi Trueman is a writer and researcher working for Print-Print, her articles and guides offer great insight to often difficult to explain topics. If you would like get in touch with Naomi then please email her at info@print-print.co.uk .