Printing Tips:
Rather than highlighting specific issues related to printing, we are offering some tips which can help you get the most out of your printing. Designing for print is as much an art as a science, so don't feel that you should be too constricted by guidelines, but they will help you to get the results you are looking for.
Colour:
One of the most important steps in getting the most vibrant colour in your printing is understanding the difference between RGB and CMYK. If you are providing files to be printed in four colour process you need to ensure that your design is supplied in CMYK. Any RGB files need to be converted to protect your colouring. Also, check the paper stock you are printing on, as you may need to adjust the Total Area Coverage. The colour value's total should never exceed 300%, and indeed you may need to reduce this number for different papers.
Image Specs:
Any graphics you place in your design will need a safety margin surrounding them. This margin should separate the edge of the graphic from any other part of the design to avoid rebates in your printing.
Image files should be saved as TIFFs for the best results, though JPEG files can be used if you need to reduce the file's size. TIFF compression is a lossless format, which won't compromise the quality of your image. JPEGs will reduce the quality of the image as a trade off for the lower memory size.
Colour and grey-scale images should be produced at 300dpi resolution, and bitmap images should be kept at at least 1200dpi. Any lower resolution will reduce the quality of the printed image.
Fonts:
Do not use bold or italic styling options on your text. Instead, use the bold or italic font options, should they exist. The styling options will not be printed if there is not associated printer font. The space will be left blank or the text will be left in its standard form. Equally you should avoid stylised shadows or shadows.
Fine lettering should be limited to single colour only, and kept to a minimum weight of 0.25. Reducing letting to any finer than this can lead to unpredictable results, which won't necessarily be accurately represented by your screen or office printer.
Backgrounds and Tints:
Solid black backgrounds should be produced in what is called a "Rich Black", 100% black plus 40% cyan tint, to create a stronger black when it come to printing. If you are using large blocks of colour across multiple pages, you run the risk of drawing attention to minor differences in the colour balance of each page. To prevent this, use as few colour processes as possible to create the banner.
Any content which runs to the edge of the page must extend beyond the page by 3mm. If it does not extend to the edge they should be kept a minimum of 5mm from the page edge.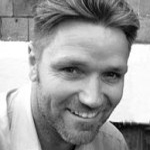 Dean Williams is a design and marketing blogger working for Print-Print Limited, promoting business and building brands through quality print marketing. If you're interested in small business promotion then please get in touch hello@print-print.co.uk