Company: Barnshaws Steel Bending.
Ordered: 5000 x A5 20pp Brochures, full colour onto 250gsm gloss with a gloss laminated outer cover, in 5 languages.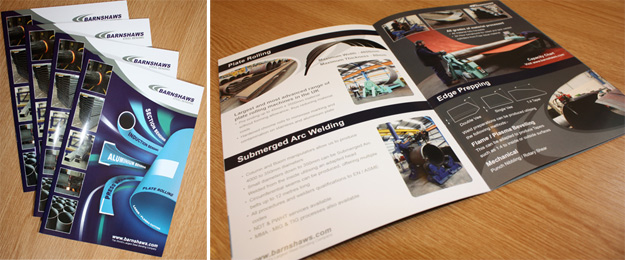 Faye Millard, Head of Design at Barnshaws reveals how Print-Print helped her achieve the perfect solution to this years corporate brochure printing.
"We asked Print-Print to devise the best solution to our company brochures, they needed to be small enough to reduce the current postage costs. We needed them to be versatile enough to be printed in 5 languages so A5 sized brochures seemed to be the perfect size. Most of our customers work in heavy engineering industries so they have to appeal to company buyers but also be used on the shop floor, so adding gloss laminate to the outer cover ensures that not only do they look great – but they last just that little bit longer.
We are very pleased with the final printed brochures, the quality is fantastic and they were delivered a day earlier than we expected. We know we will be staying on board with Print-Print for all of our future full colour printing needs"
About the company: Barnshaw Steel Bending is the largest metal bending company in the world and has the largest capacity range. Established in 1969 by the current Chairman, Russ Barnshaw; the company has grown to be a key supplier to the construction, oil and gas, mining and engineering sectors.
Their steel bending services include: Pipe Bending, Plate Rolling, Section Bending, Press Braking, Aluminum Bending, Laser Cutting, 3d Plasma Cutting and Induction Bending.
Barnshaws were recently catapulted to the world stage with their work used for the various building projects at the London Olympics, including the iconic Orbit Sculpture. Barnshaws we also heavily involved in the steel structure of the 'Stratford City' shopping complex adjacent to the Olympic park. Craig Barnshaw said "the project completed a great year for us with Olympic projects after earlier supplying metal bending for the Olympic Aquatic Centre and the Olympic Velodrome'
Website: www.barnshaws.com
Print-Print Customer Spotlight: ++++++++++++++++++++



We want to tell all our customers about your business.
Our website has over 40,000 visitors every month and this section will 'Showcase' our customers and their businesses.
All you need to do is write a short article about your company or organisation, (maybe include how print-print's great quality printing service helped you) send us some images don't forget to include your company logo (JPEGs preferred) include your website address and we will put all this together within its own page and link back to your site. Ideally your article should be a min of 200 words long.
Our thinking is this kind of free exposure will help you promote your business and then in turn as you grow you'll be back to us for more printing in the future.
This is a great marketing platform for you – and its completely free!!
Please email us at: info@print-print.co.uk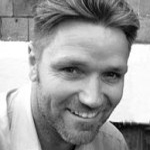 Dean Williams is a design and marketing blogger working for Print-Print Limited, promoting business and building brands through quality print marketing. If you're interested in small business promotion then please get in touch hello@print-print.co.uk