Reel in the buyers with these 5 essential trade show tools
The best small businesses know how to get noticed.
They find the right market and they advertise well. But most important of all: they're good at putting themselves out there and getting involved in real-world networks.
Trade shows and exhibitions are one of the best ways for a small business to find new clients, attract attention, and make meaningful new connections – and it doesn't hurt to have a sneaky look at the competition, either.
But you need to come prepared.
Not just with the right team and the right attitude for meeting new people. You also need the best promotions, displays and printed material if you want to turn a first glance into concrete interest that lasts beyond the show.
Here are five of the most important tools and props for any small business heading to its first trade show:
1. Business cards, lots of them!
If you're running a business and you don't have any business cards, get some now.
They're one of the most simple, affordable, effective – and personal – ways of turning a casual first chat into an ongoing relationship.
That fantastic conversation you had with a promising new lead? It's worthless if she leaves empty-handed – she's already forgotten the name of your business by the time she hits the next stall.
So be generous with your business cards, and don't ever run out. Bring more than you think you'll need, then bring a few more on top of that.
You can even get your business cards made with a printing company that specialises in next-day delivery (Hello!). If you find yourself running short (or your trade show stall is more popular than you thought) you can get a new batch delivered to the venue for the next day of the exhibition. No panic, and no lost opportunities.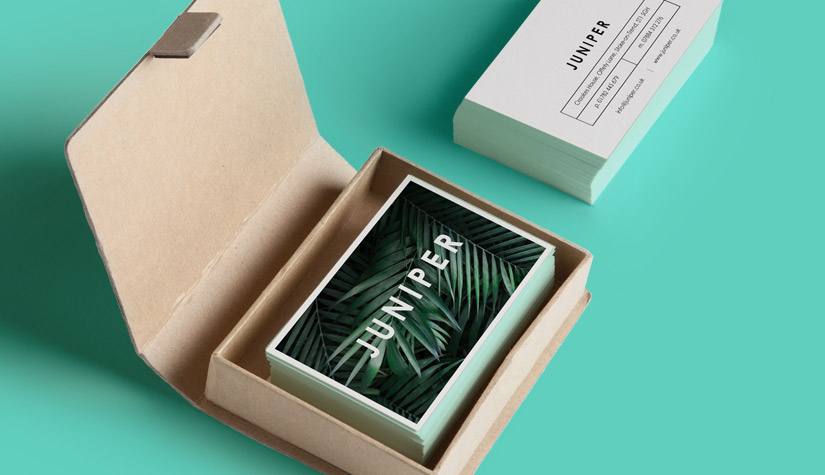 Just watch out for the extra-fancy designs. Some business cards (like those with foil elements) need extra time to dry – so have a simple back-up design ready for when you need business cards printed in an emergency.
And just like every other part of your trade show stall, you need to take care with your presentation.
It's no good fumbling for a business cards from a loose stack that's sliding all over the table. Invest in a few business card holders to keep your cards fresh and your team looking composed and organised.
2. A step and repeat banner that puts the competition to shame
If you want to make the stalls around you look amateur by comparison, it doesn't get much better than a step and repeat banner.
Popping up a roller banner that's plastered with both your company logo and the logo of the event doesn't just make you look like a bigger business with a bigger budget.
It makes you look like a trusted partner of the event itself – a company that books its place every year, and one that has a wide network of regular visitors who are worth taking photos with.
In short: it makes your business look slick. And if people see you've got a dedicated area for photos, they'll subconsciously want a photo for themselves, too.
Here's the clever part:
You can create a simple competition with an attractive prize, where anyone who shares a selfie or a photo with you in front of your step and repeat banner gets entered into a prize draw.
You could offer up one of your company's products as the prize, or a free subscription to one of your services.
Anyone who's interested in winning can step up and take a photo, and then share it on their social media accounts (hopefully, with the location tagged).
The result?
Your interested visitors can have a bit of fun and have a recorded memory of you and your company – and those who wouldn't normally be that interested could start approaching you for a chance to enter and win. Either way, that's (almost) free publicity for you and your business!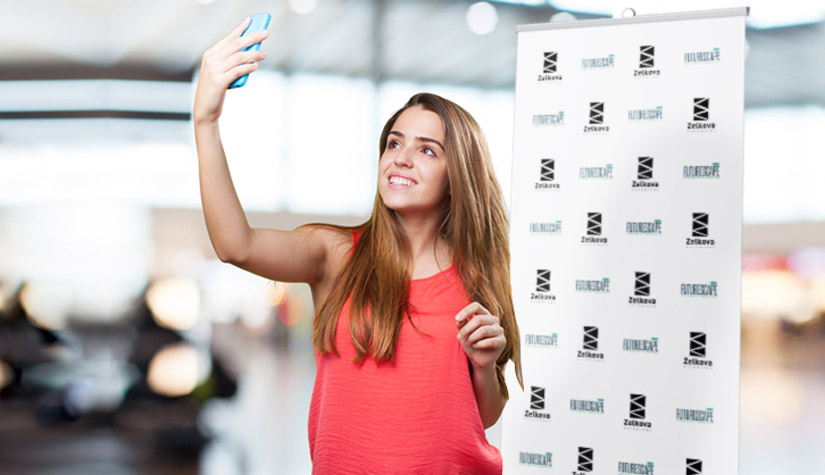 Unfortunately, not every business will have the floor space (or the budget) for a step and repeat banner.
But every business that's setting up a trade show stall should have the space and budget for a few dedicated posters to show off your brand and pull prospects over to your stall.
At the very least, every stall ought to have a large poster with your company's name and logo on it. And ideally, you'd also include an informative slogan or a clear image of your products or service.
Without it, your stall is effectively invisible – why would anyone approach an unmarked stall without some idea of what you're all about?
For a trade show or exhibition, we'd recommend an A2-sized poster as an absolute bare minimum (and if you want a good investment, get a mounted poster that's durable enough to last through several different events). Anything smaller is bound to get lost, and won't really be seen from more than a few metres away.
We've even seen some stalls trying to get attention with a meagre A4 poster. It won't get noticed, and it makes you look like you took it straight from the office printer!
So make sure it's big enough to turn heads, make sure the colours and design match the rest of your branding, and make sure you put it up at a height and position that means it can be seen from every angle and any position in the crowd.
And if you've got the space, it doesn't hurt to have more than one.
The best trade show stalls offer as much information to passing prospects as early as possible. You could use one main poster for your logo and branding, one for an image-based summary of what you do, and another to shout about your main promotion or offer – like any free gifts, competitions, or special deals that are on offer.
3. A few team name-tags for a personal touch
Exhibiting at a trade show is all about making connections.
And wearing a name badge can help to break down the barriers when visitors come up to your stall.
Suddenly, you're not an intimidating stranger, or someone who looks desperate to win new business. You're Sarah, the Product Engineer – or Joe, the Customer Rep.
Attaching a name and a position to the person you're speaking with creates instant familiarity, authority and trust.
If a prospect has a question about how your products work, they know they can ask Sarah. And they know before they ask that they'll get an informative answer about the product that's not just empty sales-waffle.
Some businesses are even using their name badges as a quick and easy promotional tool.
By printing their badges with a QR code that links to their website or a YouTube demonstration, people visiting your stall can get instant access to your online information – which can be a life-saver when you're fielding the same basic questions all day.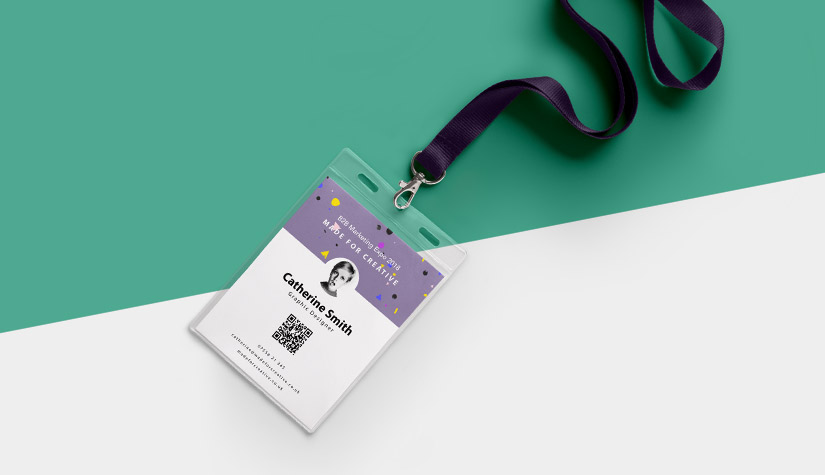 4. Branded notebooks and other free gifts
People love free stuff. And they expect to come away from trade shows with plenty of freebies.
So what's the best way to attract people who love free stuff?
Satisfy their expectations.
Handing out low-cost freebies like branded notebooks gives your visitors something useful that they'll need as they cruise around the trade show.
You're creating a positive experience for everyone who comes to your stall (free stuff!), but you're also turning every visitor into a walking advert for your brand. As they go from stall to stall, they're broadcasting your company's name, logo and brand colours to everyone around them.
On top of that, there's a subtle psychological effect.
When people get a gift, they feel indebted. They feel the need to return the favour in some way, and that often means they'll be more likely to:
Spend more time at your stall learning about your business
Listen to what your team has to say
Recommend you and your stall to others
Give up their contact details, try out your products, and be more responsive to future conversations beyond the trade show.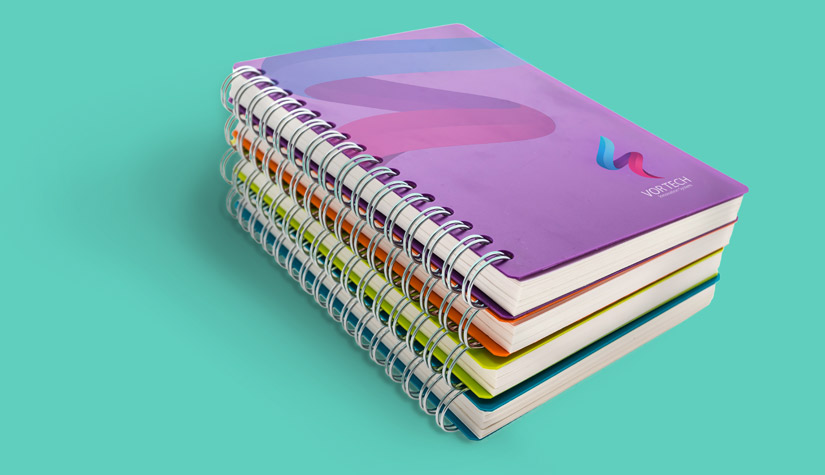 5. Brochures and leaflets that fit in a bag
Let's be honest:
Most people who visit your trade show stall (even those who stop for a long chat) won't remember all the details of your products, services and offers.
They might not even remember your company's name.
So it's important to send them away with all the details in their hand. When they're at home or back at work, they'll have every important piece of information they need to make a buying decision and get in contact.
You won't want to hand out a 50-page brochure to every person who stops by your stall – the costs would really start to rack up.
Instead, you can produce a low-cost leaflet or slim brochure that has only the most essential details and offers.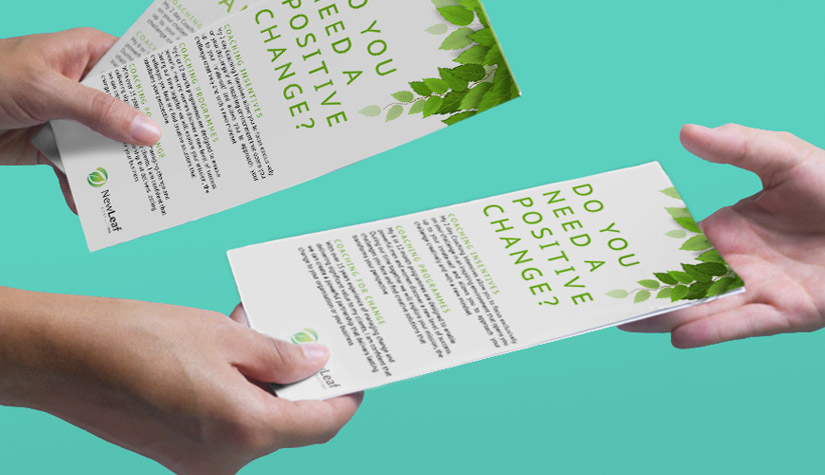 An A4 tri-fold leaflet is the perfect size for something that can hold a lot of information while still being handy enough for pockets and bags. With 6 separate DL-sized sides to fill, you can fit in plenty of bite-sized promotions and product photos, covering as many aspects of your business as possible.
Just remember that your leaflets and brochures aren't lists – they're marketing tools. And you need the design and content to reflect that.
Every brochure or leaflet should be focused on your target market: their problems, their needs, and your solutions to those problems and needs.
It's fine to use some of the space to describe your business or tell your story. But your front cover, headlines, photos, and text should all be carefully tailored to answering your audience's only question: 'What's in it for me?'.
Your prospects want to know how you can help them solve their problems. They want to know why they should choose you instead of your competitors, and they want to know how they can get started if they do choose you.
And remember: they probably won't read it at the show. That means your leaflet or brochure will be competing with every other piece of literature that ends up in their bag – so it's definitely worth investing in an eye-catching design and some carefully constructed content.
BONUS TIP !
If you've got the floor space and the budget, you could try setting up a separate seating area for visitors to relax with a free coffee (and talk about your business, of course).
Nothing will earn you more brownie points than giving exhausted trade show visitors a place to rest their feet and get some refreshments. And to anyone else passing by, it makes your stall and your business look more friendly and approachable.
It doesn't have to be anything too costly or extravagant. Depending on your target market, you could even set up a few beanbags next to a coffee table decorated with your brochures and business cards – anything that looks cosy and inviting will do the job.
Once they're comfortably resting with a coffee in their hand, you've got a good few minutes to start a friendly chat about their business or their needs. And we all know how much people let their guard down once they've got their feet up with a hot coffee!
Ready to hit your next trade show? We're here to help.

We'll set you up with the smart, professional printed props and promotional tools you need to grab attention and make connections.

And with free next-day delivery on most of our products, we can help you get your trade show stall up and running quickly and easily.

See our website or call us for a quote on: 01952 850730
Images courtesy of freepik.com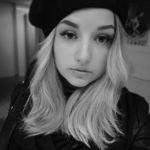 Katie Angilletta is a digital marketer working for Print-Print Limited, promoting business and building your brand through quality print marketing.
If you're interested in small business promotion then please get in touch hello@print-print.co.uk