A Close Look at your Favourite Supermarket
Don't be fooled – it's what it says 'your favourite supermarket'. The odds are that you are a loyal shopper at the top 4 in the UK. You have chosen to shop there and if you're asked why, you'll defend your decision. This means that you're predisposed to trust them and, believe me, they'll make it as easy as they can for you!
Say you're a regular supermarket shopper. You'll park outside in one of their enormous carparks. If you have children or you're disabled then they'll reserve you a dedicated space nearer the store – because you're special and they care.
Already you've been given choices and of course there are more to come – what size trolley would you like? Pick one from under the covered walkways : a great big deep one for a family shop almost fathomless in size, or a neat shallow one (amazing how much stuff one of these will actually hold too). Only about a third of them have a place where you can clip your list – I wonder why?
Now the glass doors will slide open in front of you and you will sail effortlessly through a pair of little swing gates before you arrive on the shop floor. Why? Because they're counting you in, they've literally got your number!
The first quarter of this retail experience will take in sweet-smelling fresh flowers, magazines and paperback books, toys and games and cosmetics and toiletries. Every single item is designed to slow you down and relax you, lower your guard as you browse the first few pages of a new bestseller or inhale the scent from a bunch of freesias ……….. Ready to shop? Oh absolutely! And so far ever single item you've popped in the trolley has been – go on, read through the list again – an impulse buy.
Pull yourself together : concentrate. Straight into the fragrant (an aerosol?! No, surely not!) bakery to pick up a couple of warm fresh loaves. Do you need two? The second will be stale by tomorrow.
Onto the green grocery aisles. Now we're talking – or they are. 'Two for one' offers proliferate. Do you want 24 satsumas or indeed two pineapples? Not very likely! But you'll take them because you've halved the price that's shown and it sounds really cheap. Think again – everything here's perishable and the odds are that half of it will be thrown away. In Britain we throw 9million tonnes of food away every year ; that's an average of 18% of every household's weekly shop.
More choices – do you want 'Kids –size' packs of sixteen apples (clearly suggesting that every good mum will want plenty of healthy fruit for the family) or superbly packed 'Perfectly Ripe' at twice the price?
There may well be a dozen different types of tomatoes – does every one taste different? Probably not. And since when did we differentiate between potatoes – 'baking potatoes' 'salad potatoes' 'roasting potatoes'. Don't King Edwards do all that and more? But choice flatters you – you are after all a discerning shopper who knows precisely what you want. Once the merchandisers have told you perhaps.
But reduced items are clumped together and don't hold much appeal. Except the avocadoes and mangoes will be soft and delicious, indeed 'Perfectly Ripe'!
And multi-buys will certainly be cheaper per unit, but honestly wouldn't it make more sense to buy the two oranges you want, rather than a bag of eight with six you don't?
And so it goes on, subtly persuading you that you need twenty four rolls of loo paper for the week, two dozen packets of crisps and eight cartons of fresh orange juice. Which is, as you well know, nonsense.
Trawl the shelves for tins and staples – at eye level are the familiar branded goods, like Heinz and RHM. Lower down (you'll have to bend to reach them) are the cheaper brands and the own brands. Look at the packaging – do you really want to buy something with a plain white wrapper labelled BASICS? Or won't that make you a poorer wife and mother?
Running out of space in the trolley now. Hubby, bored, has sidled off to the sanctuary of the discreetly placed Beers, Wines and Spirits to pick up a few extras (was that on the list?). You may now reward yourself with a bar of chocolate which of course will mean acquiescing to the children's demands for the carefully placed kids' sweets on the lower shelves.
Out to the checkouts. 'Do you have a Loyalty Card?' Yes of course you do because nice Tesco's send you vouchers and money off coupons. Hand it over to be swiped. Now the supermarket has yet more information on your shopping habits. Bespoke shopping, more like subconsious adverting, along with the exact science of consumer buying habits – it's no wonder you're brand loyal!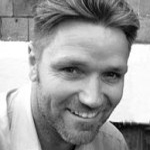 Dean Williams is a design and marketing blogger working for Print-Print Limited, promoting business and building brands through quality print marketing. If you're interested in small business promotion then please get in touch hello@print-print.co.uk