How to fully immerse a reader in your promotional literature.
The psychology of perception raised the following key issue. The way people see what is in front of them is determined by their state of mind.
So let's now put this into an example. A person thinking about going on holiday will pick up a holiday brochure and study it very closely, paying attention to the detail, text and images.
But someone who is not thinking about going on holiday will look at the brochure in a very different way. Most likely they will just flick through, not really looking at anything in particular and get distracted by things happening around them.
So from this is it clear the focus should be on persuading the casual reader to become a committed reader. After all, these are the people who are more likely to take note of all you offer and then go online, or pick-up the phone to book the holiday.
Now if we stick with the holiday brochure theme, you might think the logical step is to show loads of pictures of the resorts in question. As the saying goes – a picture is worth a 1000 words.
But a picture is not worth a 1000 words to a casual reader. Pictures actually require a lot more brain power to decode then words do. This is made worse when the text and images are on separate pages, as with most travel brochures, because this requires even more brain power.
In short having pictures and words doesn't inspire the casual reader to commit; it can actually turn them away.
What the psychology of perception has shown us is that you have to grab the attention of the reader, make them slow right down and then give them the relevant information.
But these findings come with two warnings. The first is that you can't always use an image or picture to stop the casual reader in their tracks, or make them focus. The second is that any images and pictures to be relevant to the text in order to have a beneficial affect on even the most committed reader. So if we now image you are trying to sell computers to a school you may think an image of children on lovely new computers will do the trick. But it won't.
The reason, quite simply, is that by the time your reader has slowed down to take it all in, a distraction will have come along and all is lost.
Now suppose you don't add a picture and use text instead. Use a headline such as "Get every student a grade A in half the time" and you should find your reader slows right down and starts reading.
Now be careful, we know text 'looks boring' but if you suddenly add pictures you may find you lose your audience. We know the page probably looks great to you, but as the designer you are the most committed reader there is! For none committed readers jumping between text (using left hand side of their brain) and pictures (right side of their brain) gets confusing and therefore they switch off.
Therefore, we find the best solution is to always start with text in order to slow the reader down. Then you may add a page of pictures and text, safe in the knowledge your reader has slowed down enough to take everything in.
And what is the point of all this? I hear you ask, simply that by choosing to pick up your printed brochure the reader is attracted to your offer.
Of course, if you know your readership then you know they will be interested from the start. Therefore you are free to use pictures and text from the start.
A good example of this is people with hobbies, such as the First World War enthusiast, who have signed up to your mailing list. You can safely assume that these people will happily read through your mail shots, or printouts.
However you can't assume all history enthusiasts, or teachers, will fall into this category as well. Although they are committed to this subject, they may not enjoy you telling them about it. So we start to find that within this context commitment is not only to the subject but also to your version of it.
So, keeping with this context, we can throw doubt on the phrase "a picture is worth a thousand words" as it appears to be the cause of more advertisement fails then any other sentence. You can even start asking yourself why the phrase was used and not a picture?
Generally speaking is you stick to these rules you should be ok. Firstly, introduce with text and focus on your benefits, emotions or being different, unless you know your have a committed audience, such as a targeted mailshot. Secondly, only introduce pictures once you have slowed your readers down with a headline for them to become engaged.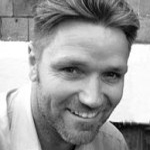 Dean Williams is a design and marketing blogger working for Print-Print Limited, promoting business and building brands through quality print marketing. If you're interested in small business promotion then please get in touch hello@print-print.co.uk